Scripps Health Performs 1,000 Robotic Surgeries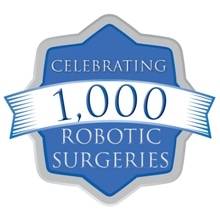 In just under three years, surgeons with the Scripps Minimally Invasive Robotic Surgery Program have performed more than 1,000 robot-assisted surgeries, including a wide array of complex urologic, cardiothoracic and gynecologic procedures, as well as oncologic and general surgeries – establishing Scripps as the fastest-growing and most comprehensive robotic surgery program in San Diego.
"This is a tremendous achievement for our program, and we are proud of our continued commitment to our patients," said Carol Salem, MD, urologic oncology surgeon and medical director of the Scripps Minimally Invasive Robotic Surgery Program. "This accomplishment helps to reaffirm the trust our patients have in our ability to offer them this advanced type of technology."
While traditional open surgery often requires long incisions and invasive tissue disruption, robot-assisted surgery is performed through tiny incisions of one to two centimeters and with minimal impact to the surrounding area. The robotic surgical system provides surgeons with enhanced dexterity, precision and control through patented instruments with a much greater range of motion than the human hand and wrist. It also provides surgeons with three-dimensional, high-definition vision for improved clarity and detail of the surgical area.
Contact: Kristin Reinhardt
Phone: 619-686-3787