Simple suggestions for protecting your skin from sun damage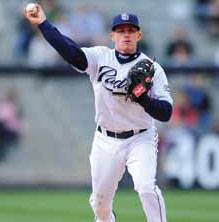 For day games, Padres second baseman David Eckstein won't take the field until he's slathered in sunscreen. Closer Heath Bell wears sunglasses and sits in the shade until it's time to warm up.
"Being smart about our time in the sun is important for all of us," says catcher Nick Hundley. "We all need to take it seriously."
The Padres training staff does its part to protect the team by making sunscreen available throughout the clubhouse, training room and high-traffic areas. And the Padres medical staff from Scripps Clinic conducts skin cancer screenings throughout the year and provides treatment when needed.
Sun exposure and skin cancer connections
Unprotected sun exposure is the most preventable risk factor for skin cancer — including the deadliest form, melanoma, which claims 8,700 lives in the U.S. annually.
Non-melanoma skin cancers are less deadly, but still pose real health dangers. Left unchecked, skin cancer cells can spread to other parts of the body or cause physical disfigurement.
"Developing smart habits is the best way to protect your skin against sun damage," says Dr. Hubert Greenway, head of dermatologic surgery at Scripps Clinic. "For example, men can use sunscreen instead of after-shave, and women can find sunscreen in many makeup products."
Strategies for safe sun exposure
Scripps Clinic offers the following tips to help San Diegans play it safe in the sun.
Sunscreen
Make sure the sun-protection factor (SPF) is at least 30 and the label says "broad spectrum," which protects against UVA and UVB rays. Apply about 30 minutes before going outside and re-apply approximately every two hours, even on cloudy days.
Clothing
Try to wear broad-rimmed hats, long-sleeve shirts and pants. Some garments have sunscreen in the fabric, but potency can diminish with washings. UV-tinted sunglasses help prevent skin cancer around the eyes and guard against cataracts and macular degeneration.
Checkups
Have your family physician or dermatologist check your skin during your annual physical exam. Watch for significant changes in your skin's appearance (such as bleeding or discoloration). Try to get in the routine of checking your "birthday suit" every year on your birthday.
Vitamin D
Get your vitamin D safely though a healthy diet that may include vitamin supplementation as an insurance policy. Approximately 15 minutes of sunshine per day usually provides all the Vitamin D that most people can convert from the sun.
Avoid these skin damage danger zones
Tanning Beds
These increase skin cancer risk and cause dry skin and wrinkles.
Sunburns
Most melanomas occur in areas that have previously been sunburned.
Midday Sun
UV rays are strongest from 10 a.m. to 4 p.m.; seek shade if possible.