Scripps Proton Therapy Center Breaks Ground
Note to Patients: The following news is posted for archival purposes only. Scripps is no longer accepting new patients for proton therapy.
Grading Now Under Way on $185 Million Facility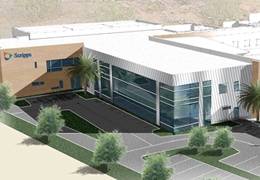 San Diego – Health care leaders and developers gathered today to celebrate the groundbreaking of the $185 million Scripps Proton Therapy Center, which will be the first facility in San Diego County to offer advanced proton therapy to cancer patients, and only the second such center in the Western United States.
Grading for the facility is now under way and construction is expected to start in October 2010. The center is expected to be open for patient care by spring 2013.
The 102,000-square-foot center will have the capacity to treat approximately 2,400 patients annually. It is being built on a seven-acre site in the Carroll Canyon area of Mira Mesa, at 9730 Summers Ridge Rd.
The facility is being developed through a collaboration between Scripps Health, Scripps Clinic Medical Group and Advanced Particle Therapy (APT), LLC of Minden, Nev. The architect and general contractor for the center is Haskell Design Build of Jacksonville, Fla.
The new facility will include five treatment rooms, three of which will include gantries, which are rotational machines designed to deliver the therapeutic beam at the precise angle prescribed by the physician. The other two treatment rooms will have fixed-beam machines. The center will also offer MRI and CT scan diagnostic services in support of proton therapy; 16 patient exam rooms; and offices for 14 physicians.
The centerpiece of the facility will be a 90-ton cyclotron, which is about the same weight as a fully loaded 737 jetliner, but just 5 feet high and 10 feet wide. The cyclotron's job is to accelerate protons to extremely fast speeds – roughly 100,000 miles per second – creating a beam that can reach tumors that are up to 14 inches deep. These beams can also be shaped in three dimensions to avoid surrounding healthy tissues, targeting tumors with unprecedented accuracy.
There are currently seven proton therapy patient treatment centers operating in the United States. They are located in:
Loma Linda, Calif. (opened 1990)
Boston, Mass. (opened 2002)
Bloomington, Ind. (opened 2004)
Houston, Texas (opened 2006)
Jacksonville, Fla. (opened 2006)
Oklahoma City, Okla. (opened 2009)
Philadelphia, Penn. (opened 2009)
For certain cancers, proton therapy offers a more precise and aggressive approach to destroying cancerous and non-cancerous tumors, compared to conventional X-ray radiation. Proton therapy involves the use of a controlled beam of protons to target tumors with control and precision unavailable in other radiation therapies. The precise delivery of proton energy limits damage to healthy surrounding tissue, resulting in minimal or no side effects to the patient. This precision also allows for a more potent and effective dose of radiation to be used.
Patients will be able to access this treatment through a referral to a specialist credentialed by the Scripps Proton Therapy Center. Proton therapy has an established history of reimbursement by Medicare and private health care payers.
A non-invasive treatment, proton beam therapy is usually performed on an outpatient basis and is considered most effective on solid, deep-seated tumors that are localized and have not spread to distant areas of the body.
Scripps Health will provide clinical management services to the center, and Scripps Clinic Medical Group will oversee the medical services. APT has arranged financing to build the center and purchase the proton therapy equipment from Varian Medical Systems of Palo Alto, Calif. Additionally, APT will manage and maintain the building and equipment. The architect for the center is Haskell Design Build of Jacksonville, Fla.
Varian will equip the facility with a fully integrated proton therapy system. The center's superconducting cyclotron will feature pencil-beam (or spot) scanning, which allows for modulation of the proton beam's intensity. This allows doctors to precisely shape the dose distribution to concentrate on the targeted tumor while sparing normal healthy tissue.
Nearly 70,000 people worldwide have received proton therapy at centers in Europe, Asia and the United States. Patients typically receive approximately 30 treatments during a four- to six-week period. Each treatment lasts for approximately 15-25 minutes, after which the patient is free to carry on with daily affairs.
In addition to providing patient care, Scripps expects to be at the forefront of new and developing clinical applications as part of its proton practice and connection with other national centers.
With more than 300 affiliated physicians, Scripps Cancer Center is a nationally recognized leader in cancer care, providing comprehensive care at its four hospitals and various Scripps Clinic locations. Scripps Cancer Center seeks to provide the best possible treatment and cutting-edge research trials for patients by coordinating medical expertise in the areas of clinical cancer care, community outreach and clinical, translational and basic research. Scripps is the only cancer care provider in San Diego to earn network accreditation from the American College of Surgeons' Commission on Cancer.
About Advanced Particle Therapy, LLC
Advanced Particle Therapy, LLC teams with clients seeking a complete turnkey solution to the implementation of a particle therapy cancer treatment center. The company provides its clients with facility planning, architectural design, equipment, construction, investment banking sources and services for debt and equity financing. More information is available at www.advancedparticletherapy.com.