Scripps Health President & CEO Chris Van Gorder Named to List of Nation's 100 Most Powerful People in Healthcare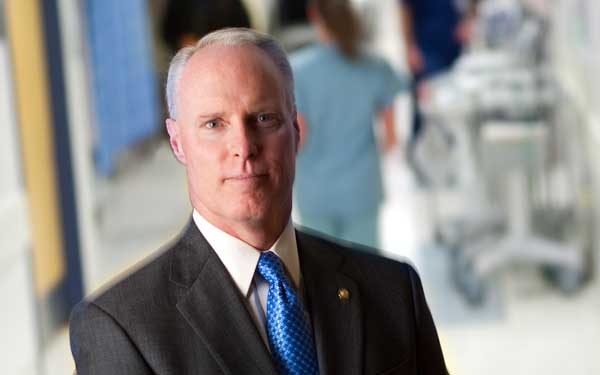 Scripps Health President and CEO Chris Van Gorder, FACHE, has been selected to Modern Healthcare's annual ranking of the nation's 100 Most Powerful People in Healthcare, published in the magazine's Aug. 23, 2010 edition.
Van Gorder has been named to the list for four straight years and is the sole San Diegan selected in 2009 and 2010. He is the only San Diego health system executive ever to make the list since its inception in 2002.
In addition to his duties with Scripps Health, Van Gorder serves as chairman of the American College of Healthcare Executives (ACHE), an international professional society of more than 30,000 health care executives. As chairman, he is serving the second of a three-year term in ACHE's consecutive chairmanship offices: chairman-elect, chairman and immediate past chairman.
Distributed nationally, Modern Healthcare is one of the nation's largest health care trade publications. Earlier this year, Modern Healthcare invited readers to nominate candidates for the 100 Most Powerful People in Healthcare list. Readers submitted just under 56,000 nominations, more than double the nearly 25,700 last year, and Modern Healthcare then placed the 300 people who received the most nominations on a final ballot on its website. A full listing of this year's selections can now be viewed at modernhealthcare.com
As president and CEO of Scripps Health since 2000, Van Gorder has led the nonprofit health system through $115 million operational turnaround, and in the process repositioned Scripps among the nation's leading health care institutions. Scripps is now at the beginning of a $1.47 billion growth and expansion plan across the region and has recently branched out into leading-edge research areas such as genomics, translational science and wireless medicine.
This year, Scripps was recognized by Thomson Reuters as one of the nation's top 10 health care systems for quality care and US News & World Report named the combined heart programs of Scripps Memorial Hospital La Jolla, Scripps Green Hospital and Scripps Clinic as one of the best heart programs in the country. Scripps has also been named among the nation's top employers by Fortune magazine, AARP and Working Mother magazine.
Van Gorder also serves as a commissioner on the California Commission on Emergency Medical Services. Under his leadership, Scripps Health worked with the state of California's Emergency Medical Services Authority to develop the internal operations structure for the state's recently purchased mobile field hospitals, to be used in the event of mass casualties from natural disasters or terrorist events. Van Gorder is also serving his second term as a commissioner to the United States Commission for the United Nations Educational, Scientific and Cultural Organization (UNESCO).
He is a clinical professor in health administration at the University of Southern California, where he also serves on the Board of Councilors for the university's School of Policy, Planning and Development. In addition, he is a reserve commander in the San Diego County Sheriff's Department Search and Rescue Unit and a licensed emergency medical technician.
In 2009, Van Gorder received the B'nai B'rith National Healthcare Award for his leadership in health care, education, community service and disaster response. He has led Scripps' disaster relief efforts to aid victims of natural disasters such as the 2010 Haiti Earthquake and earlier, Hurricane Katrina.
Van Gorder received his master's degree in public administration/health services administration from the University of Southern California and completed the Wharton System CEO Program at the University of Pennsylvania. He earned his bachelor's degree from California State University, Los Angeles.