New Pink Glove Dance Sequel Stars Scripps La Jolla Staff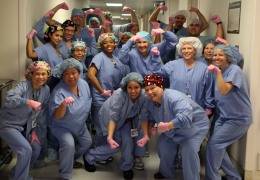 The original was a YouTube Sensation and now the Pink Glove Dance is spreading…to Scripps Memorial Hospital La Jolla. More than 150 staff members at Scripps La Jolla are among the 4,000 health care workers and breast cancer survivors from San Francisco's Golden Gate Bridge to New York's Times Square and many sites in between to star in the Pink Glove Dance: the Sequel. The sequel is scheduled to premiere Sept.17 at 9 a.m. CST on the website www.pinkglovedance.com.
The original video premiered last November featuring 200 Portland, Ore. hospital workers wearing pink gloves and dancing in support of breast cancer awareness and prevention. Today the video has more than 11 million views on YouTube and is spawning an endless number of pink glove dance videos and breast cancer awareness events across the country.
"Once we saw the original video, we immediately wanted to get involved to help make a difference at our facility, in our community and even around the country," said Mary Ellen Doyle, vice president and chief nursing executive at Scripps La Jolla. "Our staff was excited and inspired to be part of the Pink Glove Dance Sequel. Not only was it a lot of fun to participate; the awareness and discussion about breast cancer we've created because of the video is the real satisfaction."
Produced by Medline Industries, Inc., the makers of the pink gloves, the original video was filmed at Providence St. Vincent Medical Center in Portland, Ore. and has generated tens of thousands of responses, letters and e-mails from survivors, family and friends. It has entertained and inspired laughter and, for many, it has evoked memories of their own battle with breast cancer or experiences faced by loved ones.
"As a way to extend our breast cancer awareness campaign, we developed a pink glove called Generation Pink," said Andy Mills, president of Medline. "Gloves are also the first point of contact between the health care worker and the patient. And, because the glove is pink, we hoped it would get people talking about breast cancer."
Medline is donating $1 to the National Breast Cancer Foundation for every case sold of its pink gloves. The donations will fund mammograms for individuals who cannot afford them.
After the original video debuted last November, Medline received hundreds of calls from health care facilities and breast cancer survivor groups throughout the U.S. and Canada inquiring about participating in a Pink Glove Dance sequel. Scripps La Jolla was among the first facilities to call about a second video.
"The response we received from the health care community, survivors and family members of survivors to the original video was overwhelming and heartwarming," said Sue MacInnes, Medline's chief marketing officer. "We were flooded with calls, e-mails and letters about the joy the video was bringing, and people were asking if they could participate in a sequel if we did one. We thought if one video and one hospital could bring this much attention to the issue, think what a video could do with 20 times the people and facilities participating in it."
Sites for the Pink Glove Dance: The Sequel
Providence St. Vincent Medical Center
Portland, Oregon
University of Minnesota Medical Center, Fairview
Minneapolis, Minnesota
Indiana University Melvin and Bren Simon Cancer Center
Indianapolis, Indiana
Tallahassee Memorial Healthcare, Inc.
Tallahassee, Florida
Saint Michael's Medical Center
Newark, New Jersey
The Medical Center of Plano
Plano, Texas
HCA Johnston-Willis Hospital
Richmond, Virginia
Scripps Memorial Hospital La Jolla
La Jolla, California
Sky Ridge Medical Center
Lone Tree, Colorado
Thibodaux Regional Medical Center
Thibodaux, Louisiana
Capital Health
Halifax, Nova Scotia
Burgess Square Healthcare and Rehab Centre
Westmont, Illinois
Isabella Geriatric Center
New York, New York
Lorien Health Systems
Maryland
Breast Cancer Survivor Sites
New York City
Chicago
San Francisco
Minneapolis
Portland
Media Contact: Lisa Ohmstede
Phone: 858-626-7142
E-mail: ohmstede.lisa@scrippshealth.org