Scripps Researchers Receive NIH Grant to Study Smart Knee
Center will serve as hub of international research collaboration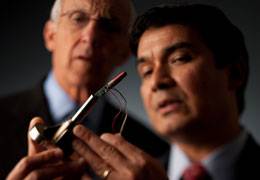 Scientists at the Shiley Center for Orthopaedic Research and Education (SCORE) at Scripps Clinic have received a $660,000 grant from the National Institutes of Health (NIH) for research related to a unique artificial joint called the electronic knee, or e-knee.
SCORE made history in 2004 when medical director Clifford Colwell, Jr., MD, implanted the world's first e-knee into a patient. This "smart" prosthesis contains a computer chip that measures forces inside the knee while the patient participates in various activities such as walking, climbing stairs, and exercising. Researchers use this data not only to understand how force affects the knee joint, but also to develop better knee implants and improve rehabilitation protocols following knee replacement surgery.
In collaboration with the University of Florida, Stanford University, and University of Western Australia, SCORE researchers will use the grant to help create computer-generated models of the musculoskeletal system that will predict what's going on inside a patient's knee based on his or her height, weight, gait, bone density, strength and other measurable characteristics.
"This is an exciting collaboration with some of the world's foremost leaders in musculoskeletal modeling," said Darryl D'Lima, MD, PhD, SCORE's laboratory director and co-principal investigator of the multi-center study. "By pairing their research with our data collected from the e-knee, which gives us an unprecedented understanding of what's going on inside the knee, we will be able to create models of the joints and muscles in the lower body that are more accurate than anything created to date."
If the accuracy of these models can be scientifically validated, they may help orthopedic surgeons predict how long prosthetic joints will last within individual patients following joint replacement surgery—thus allowing people to modify their lifestyle in such a way that their implant lasts longer.
According to the NIH, the average artificial knee joint lasts 10-15 years before it needs to be replaced again. However, its useful life could be shorter or longer depending on a number of factors including a patient's weight and the amount and types of activities they participate in.
Due in part to the aging and active boomer generation, demand for total knee replacements in the U.S. is predicted to grow by 673 percent – reaching 3.48 million – by the year 2030, according to a study published in the Journal of Bone and Joint Surgery. By 2014, more than half of those needing total knee replacements will also be younger than 65 years.
Founded in 1924 by philanthropist Ellen Browning Scripps, Scripps Health is a $2.2 billion, private not-for-profit community health system based in San Diego, Calif. Scripps treats a half-million patients annually through the dedication of 2,500 affiliated physicians and 13,000 employees among its five acute-care hospital campuses, home health care services, and ambulatory care network of physician offices and 20 outpatient centers and clinics.
Scripps is recognized as a leader in the prevention, diagnosis and treatment of disease, and is at the forefront of clinical research and graduate medical education. More information can be found at Scripps.org.