41st Annual Mercy Ball Raises More Than $260,000 to Support Cancer Care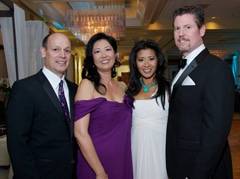 San Diego – Raising more than $260,000 to benefit lifesaving cancer care at Scripps Mercy Hospital in San Diego and Chula Vista, guests of the 41st Annual Mercy Ball, Experience Paradise, enjoyed a memorable evening at sunset overlooking the calm waters of Mission Bay.
The event was held at Paradise Point Resort & Spa, San Diego's private island resort. Event chairpersons Linda and Chris Townson planned the luxurious event where more than 420 guests enjoyed fine cuisine, and music and entertainment by the James Gang Band, while mingling with friends, family and physicians of Scripps Mercy Hospital.
Proceeds from this year's ball will be used to support crucial clinical research, education, detection and care for cancer patients. In addition, funds will benefit vital capital improvements on the San Diego campus to enhance the growing cancer center.
Scripps Cancer Center at Scripps Mercy Hospital is the only hospital-based cancer program serving more than 1 million people who live or work in downtown San Diego, South Bay and surrounding communities.
View photos from the event!
<563-792-5121/in/set-72157626415898453>>
For more information on ways to support lifesaving care services at Scripps Mercy Hospital, please visit www.scrippshealthfoundation.org.