Robotic Surgery Helps Lifetime Golfer Quickly Return to the Game
A minimally invasive procedure for prostate cancer treatment leads to fast recovery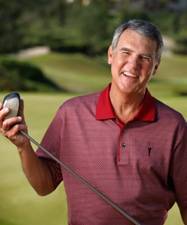 As founder and CEO of Douglas E. Barnhart, Inc., a San Diego building, engineering and construction management firm, Doug Barnhart understands the importance of using the latest technology to get the best results.
As a lifetime golfer, he recognizes that precision, expertise and years of experience are critical to achieving success.
These same guiding principles also influenced Mr. Barnhart as a patient facing prostate cancer and an individual who wanted to make a positive impact on the health care of his community.
Upon learning of his cancer diagnosis, Mr. Barnhart researched his options and chose the Scripps Minimally Invasive Robotic Surgery Program and its state-of-the-art da Vinci Surgical System for his prostate surgery.
"The da Vinci Surgical System is a marvelous piece of engineering machinery," Mr. Barnhart says. "All other surgical options were out of the question. I wanted to go with the best."
Minimally invasive surgery means a quicker recovery
Unlike traditional open surgery that often requires long incisions and invasive tissue disruption, robot-assisted surgery is performed through tiny incisions of one to two centimeters and with minimal impact to the surrounding area.
The robotic system provides surgeons enhanced dexterity, precision and control, offering greater range of motion than the human hand and wrist. As a result, patients typically experience less blood loss, less risk of infection, less pain and scarring, and a quicker recovery.
Reflecting these positive outcomes, Mr. Barnhart's surgery was a great success. His recovery was better and easier than he had ever imagined. Within only a month, he was running and playing 18 holes of golf.
"I quickly returned to doing the things that I enjoy and feel like I've been given a second chance at life," says Mr. Barnhart.
A renewed commitment to helping others
Overcoming his diagnosis, especially given its severity, Mr. Barnhart has a new perspective on life, his purpose and his goal to help others. Inspired by the compassionate, exceptional surgical care he received from Carol Salem, MD, and the entire Scripps robotic surgery team, he is dedicated to giving back.
Mr. Barnhart recently made an extraordinary $2.5 million gift to Scripps Mercy Hospital to support the significant renovation of two operating rooms to accommodate minimally invasive surgery equipment — the same equipment that was a critical factor in his extraordinary surgical outcome.
"I'm excited to support Scripps Mercy Hospital and ensure this revolutionary medical technology is available to other patients like me," says Mr. Barnhart.
Barnhart generously funds program enhancements
With Mr. Barnhart's gift — and support from the community — two state-of-the-art minimally invasive surgical suites will provide the technology and space for surgeons throughout the Scripps health care system to perform minimally invasive robotic surgeries, including urologic and gynecologic procedures.
The new operating rooms will also be equipped with advanced video conferencing capabilities, to teach surgeons and medical specialists about the benefits of lifesaving, robot-assisted surgical procedures.
"The new operating rooms will provide an incredible way to teach. An audience of medical specialists will be able to watch robot-assisted surgeries live from a conference room," says Dr. Salem. "The video capabilities are absolutely phenomenal."
Mr. Barnhart's generous $2.5 million gift will be used as a challenge to the community to help raise $5 million needed to develop the minimally invasive surgical suites.
The renovation is part of the Scripps Mercy Campaign to expand and modernize key critical care facilities that help the hospital serve the health care needs of more than one million people.