Gregg G. Juarez's Gift Annuity Continues To Help Skin Cancer Patients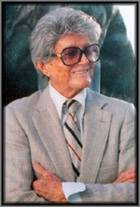 Famed art dealer and philanthropist Gregg G. Juarez's generous gift annuity has helped fund the training and hiring of a third skin cancer surgeon, Seaver Soon, MD, at the Gregg G. Juarez Skin Cancer Center at Scripps Clinic. Because of the expert medical attention given at the center named after Mr. Juarez, skin cancer patients travel from around the Southwest to be treated here.
Mr. Juarez has a long history of supporting the humanitarian passions of his life, including health care and education, but is especially famous for his success in the arts. As an artist, a collector of art and the owner of a string of galleries from Palm Beach to Palm Springs, Mr. Juarez opened his first gallery on La Cienega Boulevard in Los Angeles in 1960. It evolved into a focal point for Hollywood celebrity art lovers and international collectors, helping him acquire the financial means to give so generously to the causes he holds so dear to his heart.
"Mr. Juarez's generous gift will benefit patients for years to come. Our center has been able to update facilities; add state-of-the-art equipment to treat skin cancer; and fund physician training," said Hugh Greenway, MD, director of Mohs Surgery Unit at Scripps Clinic since 1984. The ability to attract, train and hire a talented surgeon, such as Dr. Soon, continues to enhance the care we provide."
Dr. Soon is completing his dermatology residency at Emory University School of Medicine in Atlanta and his fellowship at Scripps Clinic. When he completes his program this summer, he'll be hired as a staff surgeon thanks to the charitable gift of Mr. Juarez.
Mr. Juarez is pleased that his gift has had such a profound impact on the lives of those who are diagnosed with skin cancer.
"I have been going to Scripps for my yearly physicals for more than 20 years, and decided it was time to give back to the organization," said Mr. Juarez soon after he made his gift. "I have always considered the work that Scripps Clinic has done in regard to skin cancer as exceptional, and I am very happy to have been able to support the center and help the team obtain equipment and expertise that they need to continue providing excellent care."
Mr. Juarez continues to enjoy his retirement and support other philanthropic pursuits besides Scripps.
For more information on ways to support the Gregg G. Juarez Skin Cancer Center at Scripps Clinic and other fundraising needs, please call Scripps Health Foundation at 858-678-6340 or 1-800-326-3776.