Complex Knee Replacement Procedure Made Possible With GPS Technology
Computer-assisted navigation provided surgeon with a much-needed map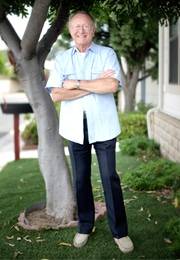 The technology that helps you find your way around an unfamiliar neighborhood is now helping Scripps orthopedic specialists navigate unknown surgical landscapes.
Forty years ago, at age 37, Jim Dupray was run over by a tractor-trailer, leaving him with a broken left femur, a crushed right tibia and two crushed knees. His broken bones never healed properly, causing constant, severe pain, and complications from blood clots severely limited his ability to move around.
Scripps Clinic orthopedic surgeon Richard Walker, MD, replaced Jim's hips in 1997 and 1998, but replacing his knees presented a much greater challenge; the complex angles of the improperly-healed bones made it difficult to correctly fit the replacement joints.
Recently, however, new computer-assisted navigation provided the advanced technology to fine-tune the procedure. Today, Jim Dupray has new knees.
Mapping human anatomy with GPS
Computer-assisted navigation uses a remote directional system similar to that found in many cars. Just as a global positioning system (GPS) initially maps an area to define roads, intersections and turns, computer navigation defines and "maps" the anatomical landscape.
As the surgeon changes the field by removing portions of bone, the navigation program provides updates as to the relative position of the bones and the planned replacement joints, the alignment of the hip, knee and ankle, and other key parameters.
"With the navigation, we are finally equipped to align his knee replacements appropriately to compensate for the angular deformities created by his fractures," explains Dr. Walker, who championed the new technology at Scripps Clinic.
A GPS-assisted surgery success story
Post-surgery, Jim is virtually pain free and able to stand and walk easily.
"If not for Dr. Walker, I would probably be in a wheelchair in a rest home now," says Jim Dupray. "He and his assistant, John (John Schneider, RN), are just about the greatest people, working at the greatest institution I could possibly think of. Scripps is just an amazing place."
To learn more about how you can support orthopedic care (PDF, 410 KB), please call 858-554-3971.