Scripps Returns Teacher to Head of Class
Beloved teacher returns to work after brain injury day treatment program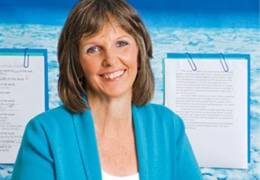 Imagine suffering a head injury so severe, you couldn't find your way to familiar places or follow a simple recipe. Then imagine being told by doctors that your injury had healed and you were fine.
This was reality for Ticia Bracher, a 46-year-old special education teacher from La Mesa, Calif. In May 2006 she fell and hit her head after tripping over a cord in her classroom. Bracher immediately began experiencing problems with memory, thought processing and judgment.
"It wasn't just a matter of misplacing my car keys," Bracher says. "I couldn't multi-task, I couldn't perform my job, I couldn't drive a car safely. I once tried to get out of a moving vehicle at 65 miles an hour."
Entering the brain injury day treatment program
After months of frustrating doctor appointments, Bracher was referred to Scripps neurologist Dr. Michael Lobatz, MD.
Recognizing that Bracher was experiencing the effects of a traumatic brain injury, Dr. Lobatz recommended she undergo intensive therapy at the brain injury day treatment program at Scripps Memorial Hospital Encinitas.
Bracher participated diligently in the program for six months. Her team of therapists included Laura Coca, a licensed speech therapist, who taught her strategies for improving short-term memory, processing speed and concentration.
"My goal was to make sure Ticia became independent again, because she was relying on her loved ones to remember things for her," Coca says. "Ticia needed to re-learn how to depend on herself. And because she is so motivated and driven, she has done just that."
After therapy, recognized as teacher of the year
Today, Bracher says her life has come full circle. Shortly before her brain injury, she was voted as teacher of the year at Spring Valley Middle School.
But she spent the next several years working 16-hour days just to keep up with classroom demands, feeling like she was short-changing her students because she couldn't function at her usual level.
Then in February 2011, after completing therapy at Scripps and starting a new job at La Mesa Middle School, Bracher was nominated as that school's teacher of the year.
"You can't imagine what it feels like to have someone give you your life back," Bracher says. "I feel like Laura and the rest of the Scripps rehab team took apart my damaged brain, fixed it, and then put it back together, piece by piece."
Bracher and Coca were honored during the San Diego Padres pregame ceremonies June 27 at Petco Park.
Scripps has been the official health care provider to the Padres since 1981.