Scripps Memorial Hospital La Jolla Designated Robotic Surgery Training Center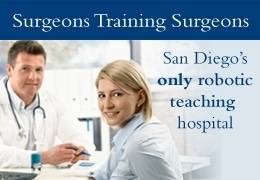 Scripps Memorial Hospital La Jolla has been designated as a training Epicenter for gynecologic robotic surgery by Intuitive Surgical, the manufacturer of the da Vinci Surgical System. Scripps La Jolla is one of only 23 designated training centers in the United States.
Under the leadership of Mel Kurtulus, MD, gynecologic surgeon and training physician for the Gynecologic Robotic Surgery Epicenter at Scripps Memorial Hospital La Jolla, surgeons from across the United States will learn surgical techniques using the da Vinci surgical system. Dr. Kurtulus has performed hundreds of robotic surgeries since completing a fellowship program in minimally invasive laparoscopic surgery at Stanford University and completing his training on the da Vinci Surgical System at Scripps.
"This designation is recognition of Scripps' commitment to offering patients a high-quality surgical experience using the most advanced technology available," said Dr. Kurtulus. "Our extensive experience with the da Vinci Surgical System allows us to train surgeons from around the world through a customized training program that shares our best practices for patient outcomes."
Selection criteria for the Epicenter designation is based on multiple factors, including a dedicated robotics team and surgeons who demonstrate a mastery of skills through their performance of hundreds of gynecologic robotic surgeries with excellent patient outcomes, established leadership in women's health and minimally invasive surgery, and the ability and willingness to teach their peers to perform robotic surgery.
While traditional open surgery often requires long incisions that damage surrounding tissue, robot-assisted surgery is performed through tiny incisions of one to two centimeters and with minimal impact to the surrounding area. Patient benefits include less pain and blood loss, reduced risk of infection, shorter hospital stay and faster recovery.
The robotic surgical system provides surgeons with enhanced dexterity, precision and control through patented instruments with a much greater range of motion than the human hand and wrist. It also provides surgeons with three-dimensional, high-definition vision for improved clarity and detail of the surgical area, which translates to more precise surgery, with better results and fewer complications.