Cancer Screenings Helped Save Loretta's Skin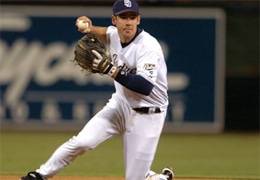 Like many Southern California teenagers in the late 1980s, Mark Loretta enjoyed bodysurfing, playing sports and basking in the sun. "Back then, getting a sunburn was no big deal," he said. "Just another part of summer."
Fast forward to the summer of 2004, when Loretta — then a Padres infielder — was in the midst of his most productive Big League season. He made his first All-Star Game and was en route to posting career highs in batting average (.335), hits (208) and home runs (16).
Around midseason of 2004, doctors noticed a suspicious-looking mole on Loretta's chest during a routine skin cancer screening. Shortly after the season ended, a biopsy revealed that Loretta had melanoma, a serious form of skin cancer that kills more than 9,000 people annually in the United States.
According to Dr. Hugh Greenway of Scripps Clinic, Loretta's treating physician, early diagnosis and intervention are key in treating melanoma. "Fortunately, we were able to detect and treat Mark's cancer early on, when we can have very high cure rates," Dr. Greenway said.
Dr. Greenway surgically removed a silver dollar-sized section of skin and fat from Loretta's chest. This included a "safety margin" around the area removed, which doctors analyzed cell by cell to ensure no signs of disease were evident. Further tests came back negative and within weeks Loretta was back to his normal offseason training regimen.
"The care I received from Scripps was outstanding across the board and it played a big part in allowing me to continue my baseball career in a seamless way," Loretta said.
Indeed, Loretta came back to help the Padres win the National League West title in 2005. He enjoyed five more productive seasons following his surgery — including a second All-Star Game appearance — and retired in 2010 after a successful 15-year career. Loretta now works as a special assistant to baseball operations with the Padres.
He has been active in raising public awareness about the importance of sun protection and yearly skin exams and has participated in several educational forums with Scripps.
Loretta also gives back to the local community through his involvement with two nonprofits. Reality Changers helps inner-city youths from disadvantaged backgrounds become college students. And the Miracle League enables children with disabilities to play baseball as part of a team in an organized league.
Loretta and Dr. Greenway will be honored during pregame ceremonies May 8, 2012, at Petco Park. To find a Scripps physician, call 1-800-SCRIPPS 800-727-4777).