Stop Skin Cancer at the Beach and in the Booth
How a perfect tan could mean permanent skin damage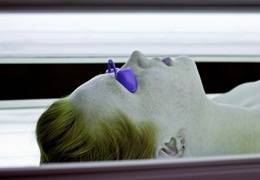 How a perfect tan could mean permanent skin damage
If you're thinking of getting a jump-start on your summer glow this year by lying out in the afternoon sun or spending a few dollars (and minutes) on indoor tanning, you should probably think again.
"Tanning in general, and indoor tanning in particular, is one of the worst things you can do for your skin," says Hubert Greenway, MD, a dermatologist at Scripps Clinic in San Diego. "Here in San Diego, we see four times as much skin cancer as the national average. That's because at our latitude, the sun is far more intense than in much of the rest of the nation. And San Diegans spend a great deal of time outdoors. When you add indoor tanning, you're piling on repeated, high-intensity radiation exposure—a perfect recipe for skin cancer."
According to the American Academy of Dermatology, more than 1 million people use indoor tanning facilities every day, and most of them are younger than 30. Unsurprisingly, there has been a steady rise in the number of skin cancer cases in young people since the introduction of indoor tanning booths to North America in 1979.
A study published in Mayo Clinic Proceedings found the incidence of melanoma in young adults has increased sixfold overall since 1970, with the number of young women (ages 18 to 39) diagnosed with melanoma having increased eightfold. And a 2010 study concluded that people who use indoor tanning equipment are 74 percent more likely to develop melanoma than those who have never tanned indoors.
In addition, a recent meta-analysis of other studies on tanning and cancer, published in the journal Photochemical and Photobiological Sciences, suggests a strong correlation between the incidence of melanoma and use of indoor tanning equipment, concluding that indoor tanning should be strongly discouraged for everybody, and banned outright for people younger than 18.
The California teen tan ban
Heeding these guidelines, in 2011 California became the first U.S. state to prohibit the use of indoor tanning devices for all children younger than 14, and requiring parental consent for those under 17 years old.
"As we learn more about the dangers of indoor tanning, we'll be able to build a stronger case against this equipment in the future," says Dr. Greenway. "In the beginning, we didn't have evidence of how dangerous indoor tanning was. Now it's coming in."
Although melanoma is the deadliest form of skin cancer, it isn't the only type to be concerned about when you tan indoors. A 2002 study concluded that people who use tanning beds are 2.5 times more likely to develop squamous cell carcinoma and 1.5 times more likely to develop basal cell carcinoma than those who don't. Even people who have never tanned indoors can develop skin cancer due to daily exposure to the sun. Fair-skinned, fair- or red-haired, blue- or green-eyed Caucasians are among the most vulnerable to damaging UVA and UVB rays.
Protecting yourself from skin cancer indoors and out
Dr. Greenway has advice for everybody in our sun-kissed climate to help them avoid skin cancer.
Wear sunscreen on exposed skin every day. Dr. Greenway recommends at least 30 SPF, and says children should be allowed to choose their own sunscreen so they'll be more likely to wear it. Concentrate on the head and neck, arms below the elbows, and if you wear shorts or skirts, the legs.
Protective clothing can also keep the rays away. Hats, scarves, sunglasses and sun-proof fabrics can all prevent damaging rays from getting to your skin.
Dr. Greenway warns that all forms of tanning will eventually make you look older, "like a weathered baseball glove." That's because a tan is actually skin damage—a sign of injury. He suggests using moisturizer every day to help keep skin hydrated, with sunscreen on top of it.
For special occasions like proms and weddings, artificial tanners in the form of sprays, wipes and lotions have come a long way since the early days. An even application is important, as is avoiding over application on rough skin like elbows, knees and heels.
Early detection and treatment are critical
"The key to surviving skin cancer," Dr. Greenway says, "is early detection and treatment." Suspicious moles and patches of discolored skin should be checked by a qualified dermatologist right away, and people more prone to skin cancer should have regular mole checks.