Scripps Manager Awarded University Scholarship
Jancie Grover Receives Scripps and Grand Canyon University Scholarship for Leaders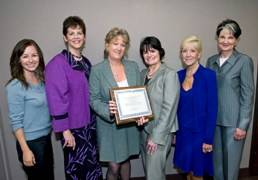 Jancie Grover, patient care manager at Scripps Green Hospital's gastrointestinal laboratory, has been awarded the Scripps and Grand Canyon University Scholarship for Leaders.
The scholarship is a product of Scripps' ongoing academic partnership with Grand Canyon University; the university offers tuition discounts to Scripps employees who enroll in health care-related degree programs. Based on this successful partnership, the university offered Scripps a one-time tuition scholarship for a graduate-level program. The scholarship will help support leadership development at Scripps through advanced studies and performance excellence.
Grover, who joined Scripps in July of 2005, was selected from a pool of Scripps leaders who applied for the scholarship.
"I am passionate about learning anything and everything about leadership," said Grover, who would like to hold an executive position within Scripps someday. "I have wanted a master's degree in nursing forever, and I am eternally grateful for this opportunity.
Dr. Anne McNamara, Dean of Grand Canyon University's College of Nursing, presented the scholarship to Grover at a ceremony on May 9, 2012 at Scripps' administrative offices.
"I am so pleased that Grand Canyon University was able to offer this scholarship to Jancie," said Dr. McNamara. "In meeting and talking with her, it was evident that she is highly motivated and very passionate about the field of nursing. I am excited for her and I will be rooting her on as she takes this big step in her educational journey and career."
About Scripps Health
Learn more about Scripps Health.
Photo participants from left to right:
Joelle Cook, Learning Leader, Scripps Center for Learning & Innovation
Dr. Anne McNamara, Dean of Grand Canyon University's College of Nursing
Jancie Grover, Patient Care Manager, Scripps Green Hospital
Valerie Walsh, Vice President, Chief Nursing and Operating Executive, Scripps Green Hospital
Veronica Zaman, Scripps Corporate Vice President, Human Resources and Learning
Mary Ellen Doyle, Scripps Corporate Vice President, Nursing Operations