San Diego's History Chronicled in New Scripps Book
Pediatrician-turned-author documents impact of Scripps Health on San Diego region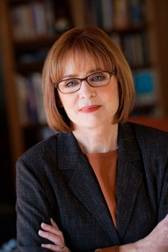 From opening the region's first hospital to saving Mother Teresa's life, the legacy of Scripps Health is deeply rooted with the history of San Diego and the development of health care in the region. In her new book, "Good Company," Sarita Eastman, MD, connects San Diego's history with captivating moments in health care through the 20th Century.
As a former pediatrician and the daughter of Anita Figueredo, MD, San Diego's first female surgeon, Dr. Eastman draws on her first-hand experience in the medical community to describe the important role Scripps has played in the San Diego region.
"The story of Scripps Health is also the story of San Diego," said Dr. Eastman. "San Diego would not be what it is today without the amazing contributions of so many individuals in the Scripps family, beginning with Ellen Browning Scripps and Mother Mary Michael Cummings – two strong, intelligent and determined women who started the Scripps legacy."
"Good Company" is not your sixth-grade history book. It's written in the form of engaging vignettes, chronicling each decade. The stories are accompanied by vintage photos from each era. Here are just a few interesting and fun excerpts from "Good Company":
1905 to 1940 – USS Bennington explodes; Mercy delivers 250 babies per month
The gunboat USS Bennington exploded in San Diego Harbor, leaving 60 dead and 47 injured. The Sisters of Mercy took care of the wounded at St. Joseph's Hospital, the precursor to Mercy Hospital. This was the beginning of a long-term relationship between the Navy and Mercy Hospital.
By 1940, Mercy was delivering 250 babies a month. As the designated hospital for the Navy, Mercy cared for as many as 75 newborns per day.
World War II – The Phantom Ball
The outbreak of WWII brought total blackouts to the coast of California. In February 1942, the Women's Auxiliary at Scripps Memorial Hospital La Jolla held the Phantom Ball – so-called because it existed only in the imagination – in lieu of the annual charity ball. Declaring that wartime was not the time to have a ball, the women mailed invitations that suggested guests contribute to the hospital the money they would have spent on the dance.
Post-War – Life on Prospect Street; Flying Samaritans; La Jolla's First Heart Ambulance
The Flying Samaritans: Dr. Berkenfield, a general surgeon for Scripps, flew down to Mexico with the Flying Samaritans, which operated free medical clinics in Baja. He saw a young girl with third-degree burns on over 40 percent of her body. Knowing she would die without proper treatment, Berkenfield flew back to Scripps to request the girl be brought back to San Diego for care. By 11 a.m. the next morning, a plane flew to Baja, picked her up, and the staff took care of her – she survived.
Life at Scripps was a lot simpler in the Prospect Street era (before 1964). "You wanted something done, you could go to Fred," said surgeon Alan Berkenfield. Scripps' administration consisted of two people, Fred and his assistant. Everyone knew everybody, and the physicians would meet to discuss patient cases at lunchtime in the solarium on the roof and enjoy a crab and shrimp buffet – the best meal in town, according to Dr. Berkenfield. Notes on operations consisted of "Shirley" in medical records typing as fast as the surgeon could talk.
1990s – Saving Mother Teresa's Life
In 1991, Mother Teresa had been visiting Tijuana for two weeks on the last stop of a worldwide tour, where she became increasingly ill. Dr. Paul Teirstein was on call when Mother Teresa was admitted at Scripps Clinic/Green Hospital with coronary ischemia and difficulty breathing. The Scripps team was able to administer a stent because the clinic was a clinical trial site and, as such, was the one center on the West Coast with access to the stent.
21st Century – Scripps Answers Call in New Orleans and Haiti
Building on its legacy of service, Scripps answered the call when disasters struck around the world. CEO Chris Van Gorder and Scripps volunteers, including Chief of Staff Brent Eastman, went to aid of victims of Hurricane Katrina, the Witch Creek Fires and Haiti. "In Haiti, Chris pulled out his search-and-rescue headlamp and put it on Brent's head; they washed their hands under a naked pipe outside; and the two of them, surgeon and scrub nurse, worked to repair the crushed limbs and gaping wounds."
Join us at Warwick's for a special book signing and presentation by longtime Scripps pediatrician and author Dr. Sarita Eastman.
Sarita Eastman, MD, is a physician and poet whose first non-fiction book, "A Trail of Light: The Very Full Life of Dr. Anita Figueredo," won the San Diego Book Award for biography in 2010. Dr. Eastman was a long-time Scripps pediatrician with a specialty in development and behavior until her retirement from the practice of medicine in 2011 to devote herself to writing full time. Dr. Eastman received her bachelor's degree in biology from the San Diego College for Women (University of San Diego), and her doctorate from the University of California, San Francisco's School of Medicine, where she also completed her residency. She is the mother of three grown children and currently resides with her husband in Rancho Santa Fe, California.