In Concert for Cancer Presented by UnitedHealthcare Sept. 8
The Family Stone to headline; proceeds to benefit cancer survivorship programs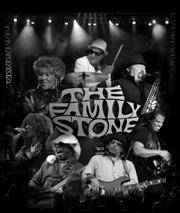 Legendary funk recording artists The Family Stone – featuring original members of Sly and the Family Stone – will headline In Concert for Cancer presented by UnitedHealthcare on Saturday, Sept. 8, on the flight deck of the USS Midway Museum.
Concert proceeds will benefit cancer survivorship programs at Scripps Cancer Center. Scripps Health and UnitedHealthcare are committed to improving access to quality care and helping enhance Californians' health and well-being.
Opening for The Family Stone will be contemporary jazz pioneers Jeff Lorber Fusion, featuring Eric Marienthal. Doors will open at 6 p.m. and musical performances will take place from 7 p.m. to 10 p.m.
Tickets are available at www.scripps.org/inconcertforcancer. General admission tickets are $50. Tickets for premium seating (rows two through six) are available for $75 and front-row seats are $100. Available for an additional $150 is a special preshow "meet and greet" with the band. More information is available by calling 425-486-7470. The USS Midway Museum is located at 910 North Harbor Drive, San Diego, CA 92101.
Rock & Roll Hall of Famers
The Family Stone includes founding members of Sly and the Family Stone Jerry Martini on saxophone, Cynthia Robinson on trumpet and Greg Errico on drums. The three Rock & Roll Hall of Fame inductees and R&B Pioneer Award winners are renowned for blazing new musical territory by fusing soul, funk, rock and R&B genres.
The Sept. 8 concert will be especially poignant for Errico, whose brother recently beat prostate cancer. "It's a great feeling to be able to play music for this inspiring event, which will help support a cause that is near and dear to my heart," Errico said.
The Family Stone will perform from its deep catalog of hits, which includes "Everyday People," "I Want to Take You Higher," "Dance to the Music," "Family Affair," "Sing a Simple Song," "Stand!" and "Thank You."
Indelible Mark on Music History
Formed in 1967 in San Francisco, Sly and the Family Stone was the first major American band to have an interracial, multigender lineup. Rolling Stone magazine ranked the group No. 43 on its list of the 100 greatest artists of all time and ranked two of the band's records among the 500 greatest albums of all time – "There's a Riot Goin' On" at No. 99 and "Stand!" at No. 118.
Also performing as part of The Family Stone lineup on Sept. 8 will be Alex Davis on lead vocals and keys, Trina Johnson Finn on vocals, Nate Wingfield on lead guitar and Blaise Sison on bass.
In addition to Jeff Lorber on keys and Eric Marienthal on saxophone, Jeff Lorber Fusion will include Paul Jackson Jr. on guitar, Jimmy Haslip on bass and Gary Novak and drums.
In Concert for Cancer is produced by Cjazz. In addition to UnitedHealthcare, major event sponsors include ABC 10 News, Azteca San Diego 15, Union Bank, the Hard Rock Hotel San Diego, The Walrus 105.7 FM and the California Wine Club.
Learn more about Scripps Health, a nonprofit integrated health system in San Diego, Calif.