American College of Surgeons Verifies Scripps Mercy as Level 1 Trauma Center
Hospital Has Maintained Trauma Center Status Since 2003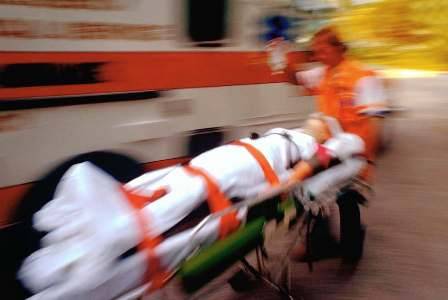 Scripps Mercy Hospital's San Diego campus was recently verified as a Level 1 Trauma Center after an in-depth survey performed by the American College of Surgeons' (ACS) Verification Review Committee.
Designated by San Diego County's Emergency Medical Services and verified by the ACS as a Level 1 Trauma Center, Scripps Mercy Hospital provides care for more than 2,500 trauma patients each year. The strict criteria outlined by ACS and San Diego County requires Scripps Mercy to provide in-house, immediately available, expert care by a team of specially trained physicians and nurses.
"We are proud of our recent verification as a Level 1 Trauma Center, which confirms our commitment to treating and caring for critically injured patients," said Michael J. Sise, MD, medical director of trauma services at Scripps Mercy Hospital. "The professionalism and integrity of our staff is evident in the compassionate care we provide our patients every day."
Trauma Care at Scripps
Hospitals seeking verification from the ACS are assessed by a team of reviewers with extensive experience in the field of trauma care. Trauma centers verified by the ACS must meet essential criteria that ensure the hospital is able to provide a broad spectrum of trauma care resources supported by a variety of expert surgical specialists, including neurologic, orthopedic, cardiothoracic, vascular and plastic surgeons. Care is also enhanced by medical specialties that include internal medicine, infectious diseases, pulmonology, neurology and rehabilitation medicine.
The recent construction of the Conrad Prebys Emergency & Trauma Center further enhances the hospital's reputation as a regional leader in the care of critically injured patients. Improvements to the emergency and trauma center include private patient rooms, a department-dedicated CT scanner adjacent to the trauma room, a telemetry system to provide continuous wireless monitoring capabilities within the emergency department and a dedicated laboratory to quickly provide test results.
Injury Prevention and Education
Scripps Mercy's trauma service provides trauma prevention education programs as a part of its trauma center status. In addition, each year Scripps Mercy continues to pilot and partner on dozens of community outreach and injury prevention programs, ranging from training for U.S. Navy trauma nurses to programs on driving safety for seniors.