Working Mother Magazine Names Scripps Health One of America's 100 Best Companies
Scripps recognized for offering diverse benefits and work-life balance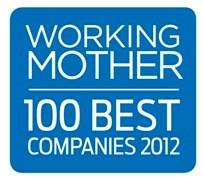 Working Mother magazine has named Scripps Health to its 2012 list of America's 100 Best Companies for its family-friendly policies, which include diverse benefits and work-life balance. The selection will be published in the magazine's October/November issue.
Scripps, which has been included on the Working Mother list for eight consecutive years, was listed as No. 24 in this year's rankings. Some of the other companies awarded recognition are: Bank of America, Deloitte, Ernst & Young, General Mills, Grant Thornton, IBM, KPMG, Procter & Gamble, PwC, and WellStar.
"As a career destination, Scripps understands and appreciates that our employees have a need to balance their work and family lives, so we are thrilled that Working Mother has once again recognized us for our family-friendly programs and policies," said Chris Van Gorder, president and CEO of Scripps Health. "We listen to and respond to the needs of our staff, and this helps us create an environment of support and collaboration, with a united focus on patient care."
Working Mother cited Scripps for establishing a work environment that is attractive to all women, particularly working mothers, with policies such as job sharing, child care, telecommuting and flextime. Scripps allows its female workforce —78 percent of its employee population — to adjust job responsibilities as family needs change.
Turning Unimaginable Tragedy into Lifesaving Opportunity
One such working mother at Scripps is registered nurse Rhina Paredes. Paredes, with the help of Scripps, turned the unimaginable tragedy of the loss of her teenage son into a lifesaving opportunity for thousands of others.
In July 2009, Paredes' 15-year-old son, Eric, unexpectedly passed away from sudden cardiac arrest (SCA). With support from Scripps and other local sponsors, Paredes established the Eric Paredes Save a Life Foundation. The Foundation provides free cardiac screenings to San Diego students and makes automated external defibrillators available in schools.
"The people at Scripps were there for me and provided unconditional support when I lost my son, but they didn't stop there. Scripps helped honor Eric's memory by sponsoring the Save a Life Foundation," said Paredes. "It's these kinds of actions that demonstrate how much Scripps values its employees. I feel blessed to be proud to part of the Scripps family."
Since its first screening in 2010, the Foundation has screened more than 5,000 high school students. Of this group, 108 students were identified with heart anomalies – 44 who were at risk of sudden cardiac arrest and three who required immediate heart procedures.
A Satisfied Workforce
The Working Mother 100 Best Companies were judged on answers to 650 questions, including data on the access and usage of flexible work arrangements, parental leave, childcare, health and wellness support and the advancement of women to all levels of management.
Carol Evans, president of Working Mother Media, said, "This year's 100 Best
Companies are leading the way for the rest of the nation. They have created not only essential benefits, like flexible work options and telecommuting, but have also shown their commitment in new ways like elder care referral and legal assistance to help busy parents manage their personal lives as well as their careers."
According to Vic Buzachero, corporate senior vice president of innovation, human resources and performance management, Scripps considers the full life cycle of employees and solicits input before designing benefits packages – and for working mothers, that equates to child care, flexible work schedules, and paid time off.
"We meet employees' needs at every life stage by offering a total rewards package designed for our diverse workforce, including competitive compensation, flexible benefits, and opportunities for professional growth and development," said Buzachero. "Scripps understands our employees are our most valuable asset, and our goal is to attract and retain top talent who help make us a leader in patient care while maximizing their own professional achievements."
A satisfied workforce also has improved Scripps' employee retention. In 2011, The California turnover rate for part-time and full-time employees was 9.1 percent. And for Scripps the same turnover rate was at 8.2 percent.
All of the winners will be recognized at the Working Mother 100 Best Companies Gala Awards Dinner on Oct.10 at the Marriott Marquis in New York City. The event is part of the Work Life Congress annual conference held from Oct. 8 -10.
The 100 Best Companies, as well as national comparisons, are profiled in the October/November issue of Working Mother and at 2012 100 Best Companies.
Working Mother Methodology
Companies were selected for the 2012 Working Mother 100 Best Companies based on an extensive application with more than 650 questions that surveys the usage, availability and tracking of programs, as well as the accountability of managers who oversee them. Seven areas were measured and scored for the 2012 initiative: workforce profile, benefits, women's issues and advancement, child care, flexible work, parental leave and company culture.
ABOUT WORKING MOTHER MEDIA
Working Mother Media, a division of Bonnier Corporation (bonnier.com), publishes Working Mother magazine and its companion website, workingmother.com, and the Working Mother Research Institute. The National Association for Female Executives (nafe.com ), Diversity Best Practices (diversitybestpractices.com) are also units within WMM. Working Mother Media's mission is to serve as a champion of culture change. Working Mother magazine reaches more than 2 million readers and is the only national magazine for career-committed mothers; Workingmother.com gives working mothers @home and @work advice, solutions, and ideas. This year marks the 27th anniversary of the magazine's signature research initiative, Working Mother 100 Best Companies, and the 10th year of the Best Companies for Multicultural Women.
Learn more about Scripps Health, a nonprofit integrated health system in San Diego, Calif.