Scripps Social Media Fund-raising Campaign Could Be 'Slam Dunk' for Heart Care
'The Beat Goes On' to benefit Scripps heart care program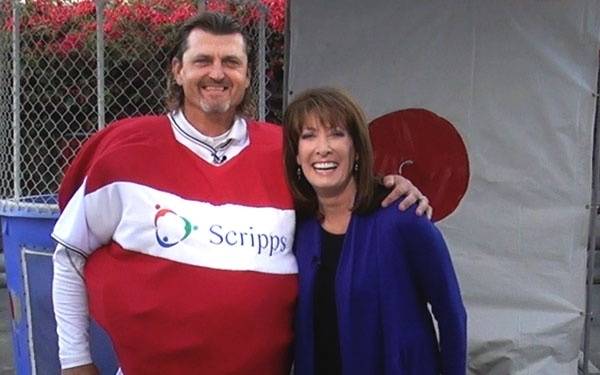 Scripps has launched The Beat Goes On social media campaign to raise money for its heart care program. If all goes well, the campaign will end with a swim in a dunk tank by future Hall of Fame Major League Baseball pitcher Trevor Hoffman and event organizer Susan Taylor.
"The hope is that we can spread the word about this event through Facebook and Twitter," said Taylor, former NBC news anchor who now works for Scripps as executive director of external affairs. We have tried to make it easy to donate. It's a minimum $10 donation, but if someone feels inspired, they are welcome to give more!"
If the goal of $50,000 in donations is reached by the conclusion of the social media campaign at noon Feb. 4, at a special event that day Hoffman will see if he can still throw the high heat in an attempt to dunk Taylor, dressed for the occasion in a human heart costume. And if $100,000 is raised, Taylor will get a shot at dunking Hoffman. Padres' broadcaster Bob Scanlan will serve as master of ceremonies for the event, which also will include Scripps employees who've donated to the cause forming a heart around Hoffman and Taylor, and a chance at dunking Scripps President and CEO Chris Van Gorder for one lucky employee.
Annually, more than 55,000 patients receive their cardiovascular care from Scripps, making it San Diego County's largest heart care provider. Scripps is the region's only cardiovascular program consistently recognized by U.S. News & World Report as one of the best in the country.
Learn more about the campaign