Scripps Researchers Find Clues To Mystery Disease In Teen's DNA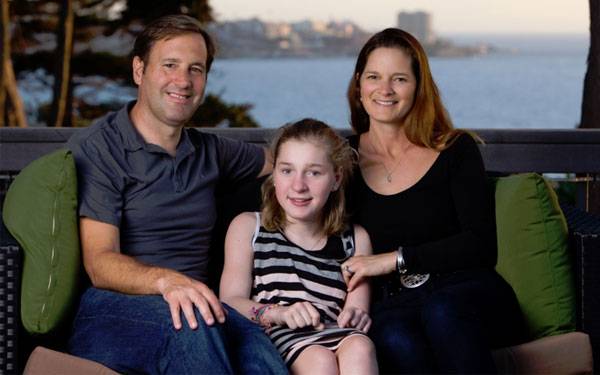 Work by a team of scientists led by Scripps Health Chief Academic Officer Eric Topol, M.D., is revealing both the promises and challenges of using cutting-edge genetic technology to diagnose and treat diseases.
Articles by science writers for UT San Diego and NationalGeographic.com chronicle the story of Lilly Grossman, a 16-year-old in San Diego who was the first participant in the ongoing IDIOM Study by Dr. Topol's Scripps Translational Science Institute.
"You have families who go through sequencing and end up getting excellent outcomes. Then there are the disappointments, cases where no help can be provided. Lilly falls somewhere in between," Dr. Topol told to the UT San Diego.
After mapping all of Lilly's 20,000-plus genes and those of her parents Gay and Steve Grossman, the researchers discovered rare variations in two of the teenager's DNA coding clusters.
One was tied to Lilly's extreme muscle weakness, poor coordination and balance problems that force her to use a motorized wheelchair. No treatment is available for the problem right now, but having the new genetic information offers hope that an effective therapy might be discovered in the future.
The other gene mutation offered more immediate opportunity. Researchers tied it to violent and painful nighttime muscle tremors that have prevented Lilly from sleeping soundly for most of her life. They identified a drug that had been used successfully in a few other people with the same defective gene.
Lilly's sleep isn't perfect now, but it's significantly improved. And her parents and physician continue to adjust her diet and medications in hopes of maximizing the effect of the new drug.
Perhaps more significantly, the study revealed that Lilly can look forward to a normal life span.
"Treatments aren't going to be instantaneous or 100 percent, but they're hope," Steve Grossman told NationalGeographic.com. "We gained hope. And the more data we have, the better position we'll be in to figure this out."
Read the UT San Diego report: The Search for What's Wrong With Lilly — March 9, 2013
The NationalGeographic.com report: 'We Gained Hope.' The Story of Lilly Grossman's Genome — March 11, 2013, is not available at this time.