Scripps Memorial Hospital Encinitas Marks 50th Anniversary
Hospital launches yearlong celebration with historical photo display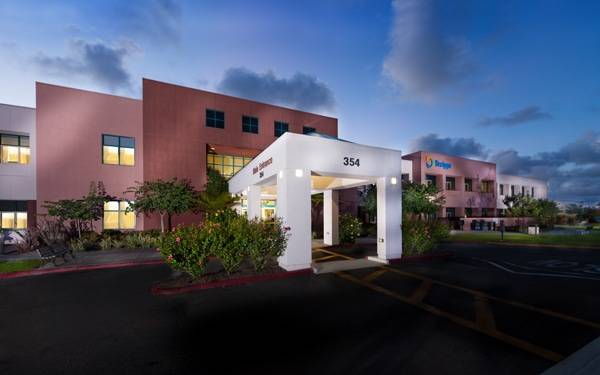 Half a century ago, construction workers began transforming a bare patch of Encinitas earth into this region's first hospital. Today, a yearlong celebration kicks off to mark the 50th anniversary of Scripps Memorial Hospital Encinitas.
Caregivers, former patients and community leaders gathered at the hospital May 3 to share memories, give thanks and unveil a historical photo display of the facility. Scripps also announced it will collect hospital-related mementos from the public during the next year for a time capsule, which will be deposited at the medical campus next spring.
The historical photo display will be available for public viewing inside the hospital. For the time capsule, the hospital is seeking small items from the public related to the hospital's first 50 years, such as photos, letters and other remembrances. Details for submitting items to the time capsule will be announced soon.
"In 1963, our founding physicians broke ground on this hospital to meet the health care needs of North County, because they had the vision to see this region as a vibrant, growing area," said Chris Van Gorder, president and CEO of Scripps Health. "This hospital is rooted in the spirit of providing superior care to our patients, which is a legacy that continues to this day."
What began as a convalescent care facility and has grown over the years to become a full-service hospital that offers a wide range of clinical and surgical services.
The earliest days of Scripps Encinitas can be traced to 1960, when Dwight Cook, MD, and the late Charles Clark, MD, bought property on Santa Fe Drive and Devonshire Road to build a small medical-dental building for their practice. They soon realized the community needed to expand its health care infrastructure, so they turned to patient and friend Herman "Pop" Wiegand, who put up his Bank of America stock as collateral for a loan to build a hospital on the same property. Groundbreaking for the hospital took place in 1963.
In spring 1964, the doors opened to the 60-bed Encinitas Convalescent Hospital, which was licensed to provide long-term care for patients recovering from illness or surgery but unable to remain at home. Later that year, the hospital's third founding physician, Ronald Summers, joined the practice of Drs. Cook and Clark. They obtained a medical specialty license and converted some of the long-term care beds to acute care beds, enabling them to start taking care of medical illnesses. By 1966, the hospital was upgraded to a specialized hospital for internal medicine and was renamed Encinitas Hospital.
Bigger plans for the hospital lay ahead. In 1967, the founding doctors bought an adjoining parcel of land to the north for future development. Eight years later, they entered into a partnership on a major hospital expansion, which added full medical-surgical capabilities, an intensive care unit, a comprehensive emergency department and raised its capacity to 94 beds. The newly named San Dieguito Hospital opened in 1975.
Joining the Scripps family
As the business of health care underwent major changes, the founding physicians realized they needed more support to sustain and grow the hospital. They approached Scripps Health about purchasing the facility, based on their familiarity with Scripps' high standards of care and commitment to serving the community. The sale to Scripps was completed in 1978, and the facility was renamed Scripps Memorial Hospital Encinitas.
"I'm pleasantly surprised and quite grateful to see how the hospital has developed over the years to provide a wider range of services," said Dr. Summers. "Our main goal in the first place was to serve the health care needs of the community, and Scripps has done a tremendous job of taking what we started and helping it grow."
Medical facilities at the hospital were again expanded in 1992, including the addition of a birth pavilion, second-floor rehabilitation, an enlarged emergency department, a new main lobby and more than 60 new acute-care beds.
Meeting needs today and tomorrow
Today, Scripps Encinitas receives more than 80,000 patient visits per year and offers a broad spectrum of services. These include complex neurological and vascular procedures, 24-hour emergency care and heart, cancer, orthopedic and rehabilitation services.
Scripps Encinitas is North County's first Joint Commission-certified primary stroke center and offers the first brain injury rehabilitation program in San Diego, Imperial and Riverside counties accredited by the Commission of Accreditation of Rehabilitation Facilities. It is also certified as a STEMI (ST-Segment Elevation Myocardial Infarction) receiving center for patients having a heart attack, which helps ensure patients receive the fastest and most effective care possible.
To meet the region's steadily increasing demand for health care services, Scripps Encinitas is currently expanding with the construction of a Critical Care Building. The new structure will more than double the size of the hospital's emergency department with 27 emergency room beds and will add another 36 medical-surgical beds on its second floor. Work on the 61,643-square-foot building is expected to be complete in 2014.
Learn more about Scripps Health.