Scripps Nurse Volunteers with MOST
RN Provides Compassionate Care to Patients in Mexico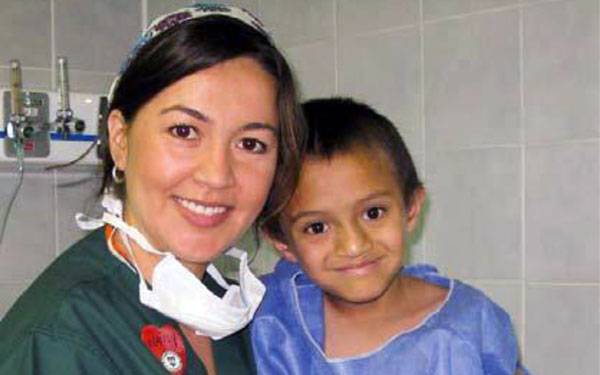 RN Provides Compassionate Care to Patients in Mexico
Nancy Richardson knew from a young age that she wanted to become a nurse. Growing up in Guatemala, Nancy witnessed the pain and struggles of the underserved firsthand, and knew she wanted to make a difference.
She began her career with Scripps Mercy Hospital as a secretary before she became an emergency room nurse — a role she's enjoyed for the last six years. Nancy volunteered at an orphanage in Tijuana, Mexico, and was always looking for additional ways to give back. After spotting a M.O.S.T. flier on a bulletin board at Scripps Mercy's Chula Vista campus last year, she immediately called to find out how she could help.
"The timing was perfect," Nancy said. "They were about to leave on a mission to Zamora, Mexico, and they desperately needed a bilingual post-anesthesia care unit (PACU) nurse to help translate. The group was incredibly welcoming, and I felt so fortunate to be able to go along."
Since that trip last year, Nancy has accompanied the team on two Tijuana missions, including the most recent trip in February 2010 where MOST performed 46 surgeries in just two days. From correcting cleft lips and palates to performing ear reconstructions, their efforts made a significant impact.
Nancy values her role with M.O.S.T. because she can see how her work is changing people's lives.
"As soon as the bus pulls up in front of the hospital in Tijuana, the children and families know who we are, and they're so happy to see us," Nancy remarked. "Many are repeat patients, so you recognize people you've met on a previous trip, and it's so nice to know that you have friends in another part of the world who you're helping."
As a translator, children and their families share their stories with Nancy, revealing the devastating impact deformities have had on their lives. Many of the children don't leave the house to play and spend most of their time hiding indoors to avoid the ridicule and cruelty of other children. Hearing their stories gives Nancy an opportunity to form a special friendship with these brave young patients.
"On this last trip, I saw a 19-year-old boy who I had met on a previous trip. We had performed ear surgery on him and had to leave drains on his ear, which required a great deal of home care. I remember giving very complicated instructions to him and his elderly uncle, and I was worried about whether he understood what he would need to do. When I saw him in February, I was so pleased to learn that he had followed the instructions well and was ready for a new surgery. It was so nice to see him and talk to him as a friend."
In the fast-paced environment of the US emergency room, nurses often don't have an opportunity to see the difference their care can make in a patient's life, but that's not the case on a MOST mission.
"We're able to see firsthand the difference we can make in these people's lives — especially in the older children and adults who cry and get so emotional, because we're able to take away the thing that has caused them so much pain and suffering," Nancy said. "This is the most rewarding part of my role, being able to help those who would otherwise not have a chance."