Scripps Leaders Named to National List for Excellence
Becker's Hospital Review list based on superior performance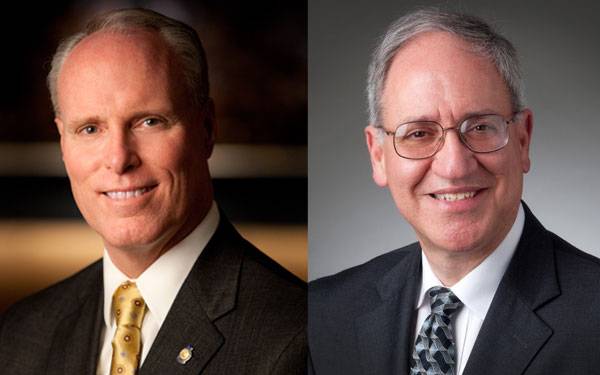 Scripps Health President and CEO Chris Van Gorder and Corporate Executive Vice President and Chief Financial Officer Richard Rothberger have been named among "300 Hospital and Health System Leaders to Know," a national list compiled by Becker's Hospital Review magazine.
"Leaders on this list have shown admirable dedication to health care delivery at local, regional and national levels," the magazine's website reported. "Each has demonstrated great commitment to improving health care in America."
Scripps is the only San Diego-based health system to have multiple leaders selected for the list, which will be published in the magazine's December print edition. Health care leaders were chosen by the magazine's editorial team.
Top health system and workplace
In 2013, Scripps made the Fortune magazine "100 Best Companies to Work For" list for the sixth time and was included among Becker's list of the "100 Great Places to Work in Healthcare." In 2013, Scripps was named by AARP as the No. 2 employer in the nation for workers 50 and older, and was the nation's No. 1 employer on AARP's previous list. Also in 2013, Working Mother magazine included Scripps Health on its "100 Best Companies" list for workplace excellence, marking the ninth straight year Scripps has made this list.
Earlier this year, Scripps was named one of the top five large health systems in the nation by the international business research firm Truven Health Analytics, formerly Thomson Reuters.
Van Gorder oversees more than 13,500 employees at five acute-care hospital campuses and 26 outpatient clinics. Since becoming president and CEO of Scripps in 2000, he has been instrumental in positioning the organization among the nation's leading health care institutions.
Also this month, Van Gorder received the Innovation Award from Press Ganey, a national firm specializing in patient experience improvement. For five consecutive years, Van Gorder was included on the "100 Most Influential People in Health Care" list, compiled by Modern Healthcare magazine.
Board-certified in health care management and an American College of Healthcare Executives Fellow, Van Gorder also served as 2010 chairman of the association – an international professional society of more than 40,000 health care executives who lead hospitals, health care systems and other health care organizations.
In October 2010, Van Gorder announced a new direction for Scripps. In anticipation of dramatic changes in health care, he "turned the organization on its side," creating a horizontally matrixed management structure to identify and significantly reduce unnecessary variation in patient care and health care operations. The new "One Scripps" approach led to $141 million in performance improvements in 2011 and 2012, and more than $79 million in performance improvements in fiscal year 2013.
Rothberger's financial stewardship
Rothberger oversees Scripps Health's corporate finance and treasury functions, payer contracting, revenue cycle and supply chain, as well as facilities, real estate and financial operations for the hospitals and clinics. Since joining Scripps in 2001, Rothberger has orchestrated a turnaround of more than $200 million from system-wide operations, built strong investment and debt portfolios, and positioned the organization for profitable growth moving forward.
He has helped Scripps improve its bond ratings to AA- from Fitch and Standard & Poor's, the latter of which stated that Scripps "demonstrates a proven ability to deliver strong results." Scripps also earned an Aa3 rating from Moody's, which cited Scripps' strong market position, exceptionally strong financial performance, improved liquidity and the health system's "stable and seasoned management team" as reasons for its rating.
Rothberger was named CFO of the year in 2009 by the San Diego Business Journal. He is a member of the Healthcare Financial Management Association and the Health Management Academy.
Learn more about Scripps Health, nonprofit integrated health system in San Diego, Calif.