Scripps CEO Recognized by California Emergency Medical Services Authority
Chris Van Gorder honored with Distinguished Service Medal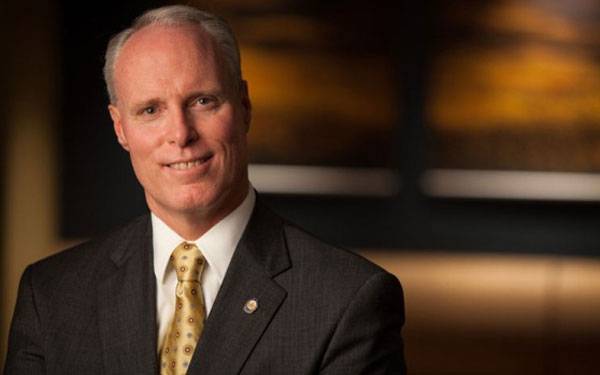 Scripps Health President and CEO Chris Van Gorder was honored with a Distinguished Service Medal at the 2013 California Emergency Medical Services (EMS) Awards hosted by the California Emergency Medical Services Authority (EMSA). Launched in 2007, the annual awards honor and recognize exceptional acts and service by individuals working or volunteering in California's emergency medical system.
Van Gorder was given the medal for his superior sustained statewide leadership as a member of the California Commission on EMS and for exceptional achievement and exemplary leadership in disaster medical response.
"It is an honor to receive this award from the State of California and a privilege to be in such distinguished company," said Van Gorder. "Scripps Health is committed to continuing our work with EMSA to ensure that we will be able to care for patients as safely as possible during emergencies and times of disaster."
Van Gorder and the Scripps Health disaster preparedness team developed the premier specialized California Medical Assistance Team (CAL-MAT) and Hospital Administrative Support Unit (HASU) that serve as the model for health systems in California and the nation and provides the cornerstone for the state's Mobile Medical Assets Program. Van Gorder was also a part of the development team of the Hospital Incident Command System, which is used both nationally and internationally.
"These men and women epitomize the spirit and commitment to quality that embody these awards and deserve official recognition for their contributions in making California's EMS system one of the best in the world," said Dr. Howard Backer, director of EMSA.
Van Gorder continues to serve the public as a reserve commander in the San Diego County Sheriff's Department Search & Rescue Unit, where he is the Search and Rescue commander. He is also a licensed emergency medical technician (EMT) and instructor for the American Red Cross. In March 2006, California's governor appointed Van Gorder to the California Commission on Emergency Medical Services (EMSA), where he served two terms.
In the aftermath of Sept. 11, 2001, Scripps Health established an office of disaster preparedness, which deploys the Scripps Medical Response Team in times of medical emergency. Members of the disaster response team responded to Hurricane Katrina , the Southern California wildfires, and the devastating earthquake that struck Haiti in 2010. The team plans to deploy to the Philippines to provide medical relief in the wake of Typhoon Haiyan.
EMS personnel are trained to provide stabilizing and lifesaving care. These EMS awards are intended to honor and recognize noteworthy or exceptional acts and service while working as EMS-certified or licensed personnel, administrators, trainers, or volunteers within the EMS system. The award period represents activities from Sept. 8, 2012 through Sept. 6, 2013 for cumulative service.
Learn more about Scripps Health, a nonprofit integrated health care system in San Diego, Calif.