Scripps Dedicates LaVerne and Blaine Briggs Rehabilitation Program
Longtime supporters of Scripps Encinitas recognized for continued generosity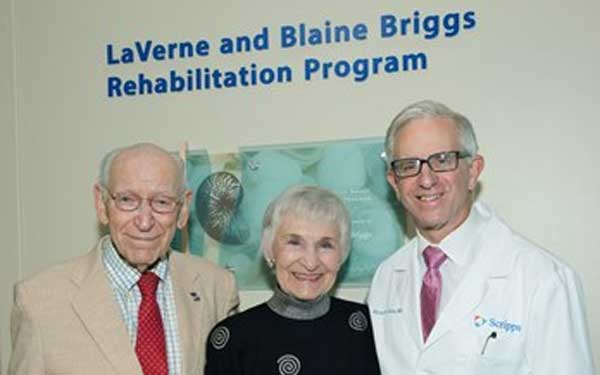 The LaVerne and Blaine Briggs Rehabilitation Program was dedicated today in honor of the Briggs family for their continued philanthropic support of the Rehabilitation Center at Scripps Memorial Hospital Encinitas.
The Briggs have been philanthropic supporters of Scripps Health for more than 20 years. In 2004, The LaVerne and Blaine Briggs Rehabilitation and Neuroscience Fund was created to provide funding and support for patient-focused programs offered by the Rehabilitation Center at Scripps Encinitas. During that time, the program has grown from a local resource to a nationally recognized rehabilitation center that offers patients state-of-the-art technology as part of their recovery process.
"LaVerne and Blaine Briggs have been part of the Scripps family for many years, quietly supporting programs and services that greatly benefit our patients, their families and the community" said Chris Van Gorder , president and CEO of Scripps Health. "We are very grateful for their continued generosity, which will help others for years to come."
In addition to the acquisition of several devices, including the Ekso robotic skeleton, Alter-G anti-gravity treadmill and a driving simulator for a driver rehabilitation program, their philanthropic gifts have helped provide specialized training for rehabilitation nurses and therapists, as well as several patient education clinics focused on concussions, multiple sclerosis and wheelchair seating.
In 2006, the Briggs also funded the military brain injury day treatment program, which worked to rehabilitate more than 100 active duty members of the military who returned from Iraq and Afghanistan with traumatic brain injuries.
"The results of the Briggs family's generosity is evident in our rehabilitation center, from the caliber of our staff and the comprehensive therapies we are able to offer our patients to the very latest in rehabilitation technology," said Michael Lobatz, MD, neurologist and medical director of the Rehabilitation Center at Scripps Encinitas. "Mr. and Mrs. Briggs have made a tremendous impact on the care and services we provide each day."