Scripps' James LaBelle, M.D., named among Becker's '100 Hospital and Health System CMOs to Know'
Annual list by industry magazine features top medical leaders in health care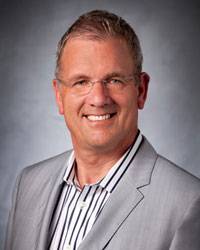 Scripps Health Chief Medical Officer James LaBelle, MD, has been named among "100 Hospital and Health System CMOs to Know" by the monthly industry magazine Becker's Hospital Review.
The annual listing recognizes individuals who oversee medical and quality affairs at hospitals and health-care systems across the United States.
"With clinical care quality factoring heavily into reimbursements and other sensitive financial issues, CMOs are more important now than ever in ensuring their hospitals provide the best care and remain viable," the magazine said.
Individuals were selected for excellence in their hospital or health system's performance or for excellence in leadership, according to Becker's. Nominations were also accepted.
Dr. LaBelle was among eight California CMOs recognized this year. Others included top medical executives from The Johns Hopkins Hospital, Massachusetts General Hospital, Cleveland Clinic and New York-Presbyterian Hospital
"I am honored to be recognized among such a distinguished group of medical leaders," Dr. LaBelle said. "This recognition reflects the success of our efforts at Scripps to partner with physicians to improve the quality of patient care while eliminating inefficiency."
Dr. LaBelle plays a critical role in expanding and maintaining the partnerships that Scripps has built with physicians over the last decade, said Scripps President and CEO Chris Van Gorder. "His leadership is invaluable as we develop and implement groundbreaking medical management functions during a period of rapid change in the health care sector."
Dr. LaBelle, who also serves as a Scripps corporate senior vice president, was named CMO in January 2013. He previously served as corporate vice president for quality, medical management and physician co-management.
Additionally, Dr. LaBelle has practiced emergency medicine for more than 25 years, and he is board certified by the American Board of Internal Medicine and the American Association for Physician Leadership.
He earned his medical degree at the University of Washington and completed an internship and residency in internal medicine at the University of California, San Diego.
Learn more about Scripps Health, a nonprofit integrated health system in San Diego, Calif.