First Pediatric Cancer Patient Completes Treatment in San Diego
Note to Patients: The following news is posted for archival purposes only. Scripps is no longer accepting new patients for proton therapy.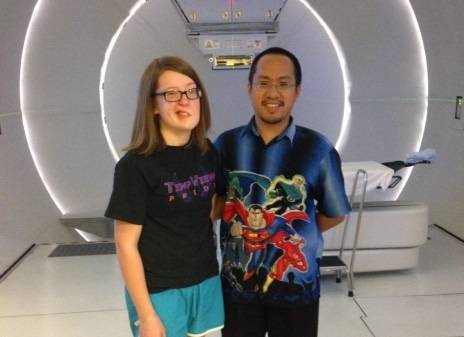 Seventeen-year-old Natalie Wright recently became the first pediatric cancer patient to complete proton treatments at the Scripps Proton Therapy Center. Her treating physician Dr. Andrew L. Chang (pictured with Natalie) was among a gathering of caregivers, friends and family who celebrated Natalie's final day of treatment July 18. After successful treatment of her brain tumor, Natalie will begin her senior year of high school this fall.
Multiple media outlets covered the medical milestone:
Visit U-T San Diego to read The Power of Proton Therapy.
Visit CBS 8 to watch First Pediatric Patient Receives Proton Therapy
Visit NBC 7 to watch Teen Receives Specialized Cancer Care in San Diego
And visit the Desert News to read Rare Cancer Treatment Leaves Provo Teen Hopeful
The 10 News report, "First Teenager Completes Proton Therapy in San Diego," is not available at this time.