Scripps CEO Shares His Rise from Police Officer, Evolution of His Transformative Leadership Philosophy
Chris Van Gorder's new book, The Front-Line Leader, explores how leaders of all types can build a high-performance organization from the ground up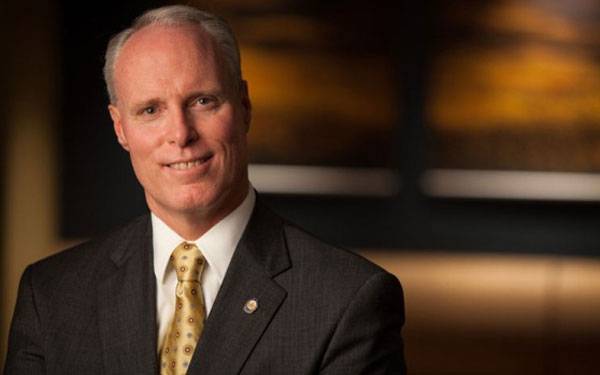 In The Front-Line Leader: Building a High-Performance Organization from the Ground Up, Chris Van Gorder candidly shares his own incredible story, from police officer to CEO, and the leadership philosophy that drives all of his decisions and actions: people come first.
As President and CEO at Scripps Health, one of America's most prestigious health systems, Chris Van Gorder has presided over a dramatic turnaround, catapulting Scripps from near bankruptcy to a dominant market position. While hospitals and health systems nationwide have laid people off or are closing their doors, Scripps is financially healthy and has developed a reputation as a marquee employer, recognized year after year by Fortune Magazine, Working Mother, the AARP, and others as a "Best Places to Work."
What are the secrets to this remarkable story, and what can other leaders and businesses learn from Van Gorder's success as a leader?
Humble roots and a powerful work ethic
Van Gorder began his unlikely career as a California police officer, which deeply instilled in him a sense of social responsibility, honesty, and public service. After being injured on the job and taking an early retirement, Van Gorder had to reinvent himself, eventually taking a job as a hospital security director, a job that would change his life. Through hard work and determination, he rose to executive ranks, eventually becoming CEO of Scripps. But he never forgot his own roots and powerful work ethic, or the time when a CEO would not make eye contact with him, a security officer.
"Police work is about protecting the community, making it a better place, educating citizens, developing warm and caring relationships, and ultimately doing the right thing, not the convenient thing, so as to give citizens someone to look up to and believe in. Businesses that follow these same principles lay the groundwork for lasting success," Van Gorder shares. "As much as companies talk about accountability and spend millions on 'corporate social responsibility' programs, managers seldom understand what practical steps to take for an ethic of service that makes accountability meaningful."
Applying Van Gorder's leadership philosophy
The Front-Line Leader outlines specific tactics and steps anyone can use starting today to take responsibility, inspire others, and achieve breakout results for their organizations. Van Gorder reveals how a no-layoff philosophy led to higher accountability, how his own attention to seemingly minor details spurred larger change, and how his own high standards for himself and his team improved morale and productivity. The book's chapters are each organized around these principles and underlying tactics, including:
The basic practices of spending time with employees, communicating, and opening up psychologically
Addressing corporate culture, covering concepts of advocacy and accountability as well as the culture-building role of middle managers
How strategy can be formed to support and benefit workers
From general strategy to the tiny, everyday steps leaders can take to create the kind of culture and accountability that translates into major competitive advantage, The Front-Line Leader charts a path to better leadership and a more engaged, higher-performing organization.
"Beyond lip service and rhetoric, executives at some companies still remain removed from their employees as well as from the managers who oversee staff performance. It's critical to connect with line personnel but also in practical terms. Organizations could become far more successful if executives only understood what it is to lead authentically from the ground up, and if they committed themselves, as we have, to that approach. If connecting with front-line workers could yield success for a large health care company, just imagine what leaders in less volatile and less regulated industries could accomplish, " Van Gorder explains. "Every day we're inspired to work even harder to earn their trust. Every day we feel that what we do has meaning."
Download high-resolution photos of Chris Van Gorder and watch an interview.