Scripps Therapy Dogs Honored at 'Blessing of the Pets' at Scripps La Jolla
More than 60 therapy dogs help comfort patients at Scripps hospitals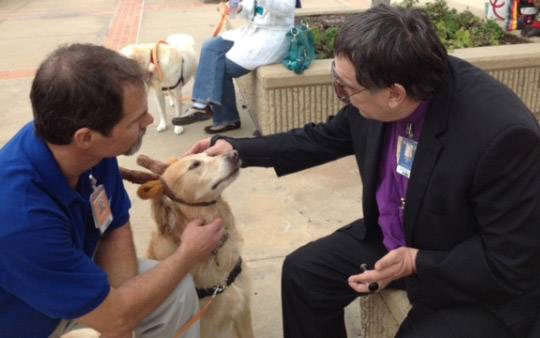 Scripps therapy dogs and their handlers were recognized Dec. 5 at a "howliday" party just outside the main entrance of Scripps Memorial Hospital La Jolla.
The therapy dogs wore holiday-themed clothing and along with their owners/handlers were praised for their volunteer work helping to provide comfort to patients at Scripps hospitals across San Diego County.
The highlight of the pre-holiday event was the annual "Blessing of the Pets" by the Rev. John Whitacre, chaplain at Scripps La Jolla.
KUSI, KBNT, Fox5 and KFMB channel 8 covered the event.
View the coverage: Scripps Hosts Holiday Party for its Therapy Dogs and their Handlers.