5 Facts about Atrial Fibrillation
How much do you know about atrial fibrillation and your health?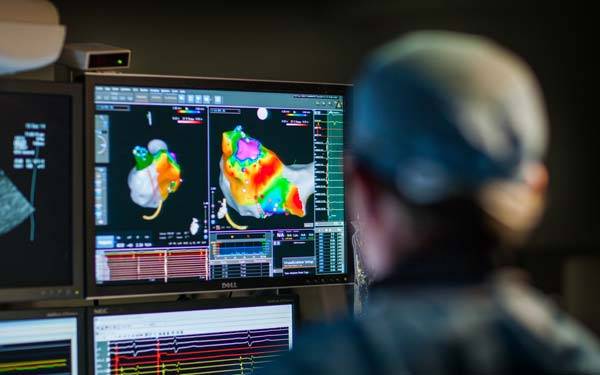 Atrial fibrillation (commonly known as AFib) is a serious heart condition that can cause the heart to suddenly beat very rapidly and erratically — sometimes exceeding 200 beats per minute. Knowing the facts about afib can help you better understand and control your condition to prevent serious and even life-threatening complications.
AFib is the most common type of cardiac arrhythmia or irregular heartbeat, affecting 2.7 million Americans.
During an episode of AFib, blood may pool and clot inside the heart, increasing the risk for stroke. People with AFib have a risk of stroke that is six times greater than normal.
Women are more likely than men to experience longer symptomatic episodes and more frequent recurrences of AFib than men. Women also have a higher risk of stroke as a complication of atrial fibrillation.
While some people with AFib experience symptoms including shortness of breath, fatigue, dizziness or chest discomfort, others have no symptoms. Women are less likely to have symptoms than men.
AFib may be controlled with medication or through surgical procedures that help maintain a normal heart rhythm and reduce the risk of stroke.
Experts in treating heart rhythm disorders
Scripps is a local and international leader in managing and treating heart rhythm disorders such as atrial fibrillation. Our board-certified cardiac electrophysiologists diagnose and treat more patients with abnormal heart rhythms than any other San Diego health care provider.
Scripps is also a leader in electrophysiology research for cardiac arrhythmia treatment, and we are proud to be among the first to bring a number of groundbreaking and technologically advanced treatments for AFib. Scripps was also the first San Diego health system to use catheter ablation to cure arrhythmias, and first in the U.S. to implant dual-chamber defibrillators for arrhythmia treatment.
Managing atrial fibrillation is the best way to prevent complications such as heart attack or stroke. If you or a loved one has symptoms of AFib, make an appointment with your physician right away to discuss your options.