Padres Legend Beats Heart Arrhythmia
World Series winner Bruce Bochy is free from atrial fibrillation after treatment at Scripps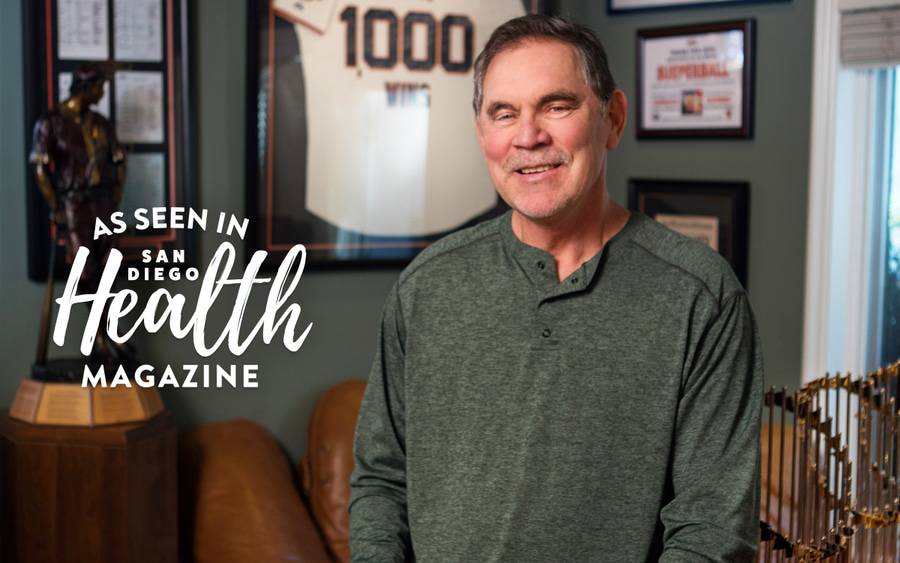 World Series winner Bruce Bochy is free from atrial fibrillation after treatment at Scripps
Bruce Bochy, the legendary Padres baseball player turned manager who now heads the San Francisco Giants, was not prepared for his first experience with cardiac arrhythmia, which happened on Thanksgiving Day, 2014.
Bochy has a family history of heart problems and had already received two stents to open blood vessels, but the rapid, irregular heartbeat of atrial fibrillation (Afib) was a completely new sensation.
"They call it holiday heart," says Bochy. "You're enjoying the holidays, you're having some wine and you're not hydrating as well as you should. I went into Afib after Thanksgiving dinner, and they had to shock it back into rhythm. That's when it started."
What is atrial fibrillation?
What is atrial fibrillation?
"I didn't know if my heart was going to stop or just blow up."
Bruce Bochy
Atrial fibrillation can cause fatigue, lightheadedness and extreme discomfort. During that first incident, Bochy's heart was going around 200 beats per minute and did not want to slow down. 
"At first, I didn't know what was going on," he says. "I didn't know if my heart was going to stop or if it was going to speed up so fast it would just blow up. I tried to wait it out, but after a while it gets painful, my heart was beating so hard."
After the Thanksgiving Afib, Bochy was prescribed antiarrhythmic medications to control the problem, but he would still have occasional incidents. 
"I'd get a little flutter and worry I'm going into Afib. Little things could trigger it: jumping into a pool, or even a cold smoothie."
On top of that, Bochy has a high-stress job. Baseball managers spend months on the road, where they often don't eat or sleep well. And then there's the Giants games — many of them hyper-stressful, one-run slogs, during which all of his decisions get magnified. He jokes that, when he went public with his condition, he received calls from other baseball managers welcoming him to the "Afib club."
Eventually, Bochy would need a more permanent, reliable solution. In 2017 he underwent ablation for atrial fibrillation and atrial flutter at the state-of-the-art electrophysiology labs at Prebys Cardiovascular Institute, a premier heart care center at Scripps Memorial Hospital La Jolla, to correct his arrhythmias once and for all.
Electrophysiologists specialize in heart rhythm problems
Bruce Bochy has a long history with Scripps. Scripps Clinic cared for the San Diego Padres when he managed the team between 1995 and 2006. His personal cardiologist is Paul Teirstein, MD, medical director of Prebys Cardiovascular Institute and director of interventional cardiology at Scripps Clinic. But for arrhythmias, Bochy needed help from an electrophysiologist — a cardiologist who specializes in rhythm disorders.
He didn't have to go far to find one. As it happened, Douglas Gibson, MD, an electrophysiologist at Scripps Clinic, lived just down the hill from Bochy's Poway home. Dr. Gibson helped Bochy manage his condition, giving him a monitor to track his heart's rhythm in real time. 
"He was so good as far as educating me about my situation," Bochy says. "He put me at ease, and let me know exactly what I was looking at. He wasn't one to rush into an ablation. He wanted to see if this was going to be a recurring issue."
If medication wouldn't stop his Afib, Bochy might've needed an ablation, a relatively noninvasive catheterization procedure that destroys the abnormal cells that can trigger Afib. The procedure can be life changing, but it also comes with some risk.
"The main reason to have an ablation is when the patient has actual symptoms associated with atrial fibrillation," says Dr. Gibson. "In Bruce's case, we followed him for a couple of years and monitored minor amounts of arrhythmia that weren't reducing his quality of life. But in 2017, the atrial fibrillation came out with a vengeance in the middle of the baseball season."
Treating Afib with catheter ablation
Bochy was committed to his profession and his team. He'd led the Giants to three World Series in 2010, 2012 and 2014. He didn't want his condition to slow their quest to return to the big stage. 
In spring 2017, Bochy and Dr. Gibson decided to move forward with ablation. Dr. Gibson would snake a catheter through blood vessels into Bochy's heart. He would then determine which cells were causing the rhythm problems and use a heated probe to destroy (ablate) them. 
"Bruce is very committed to the Giants organization and was adamant about not missing any work," Dr. Gibson says. "Because of this, we performed the atrial flutter ablation during the 2017 All-Star break, knowing that we were going to have to use medicines to control atrial fibrillation for the rest of the season."
Bochy continued to have breakthrough Afib episodes, despite the medication. At the end of the 2017 season, he underwent a catheter ablation procedure. Within a week he was back to his usual activities. He was monitored throughout the 2018 season with a small device implanted under the skin. 
"Bruce didn't have a single episode of arrhythmia throughout the 2018 season — without any drug therapy. That was a huge relief," says Dr. Gibson.
Bochy's heart rhythm is back to normal
Bochy's heart rhythm is back to normal
"I feel much better…there's nothing I don't do."
Bruce Bochy
Some patients require additional ablations — arrhythmic heart cells can recover — but Bochy's worked great from the start. 
"I felt much better," he says. "I had so much more energy. Sometimes you need a wake-up call to take a little better care of yourself as far as what you're eating and drinking, and getting your sleep. But there's nothing I don't do because of the procedures."
In fact, the ablations did more than correct arrhythmias. Bochy had an extremely low resting heart rate common in athletes — and that posed a problem when Dr. Gibson prescribed antiarrhythmic medications designed to slow the heart. He was concerned they might slow it too much. But after the ablations, his heartbeat kicked up a notch. 
"In some individuals, as you ablate, you remove some of the nervous system inputs that slow the heart down," says Dr. Gibson. "That will raise the heart rate, and that happened with Bruce very nicely."
Now, more than a year later, Bochy has no evidence of Afib — or any other heart problems — and visits Dr. Teirstein regularly to try to keep it that way. 
"He keeps reminding me: I may not have the best genes," Bochy says, "but as long as I keep coming to see him, I'm going to be fine."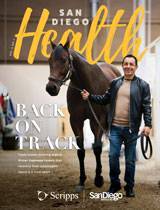 This content appeared in San Diego Health, a publication in partnership between Scripps and San Diego Magazine that celebrates the healthy spirit of San Diego.