Van Gorder Ranked One of Most Influential People in Health Care
Modern Healthcare lists Scripps president and CEO in top 100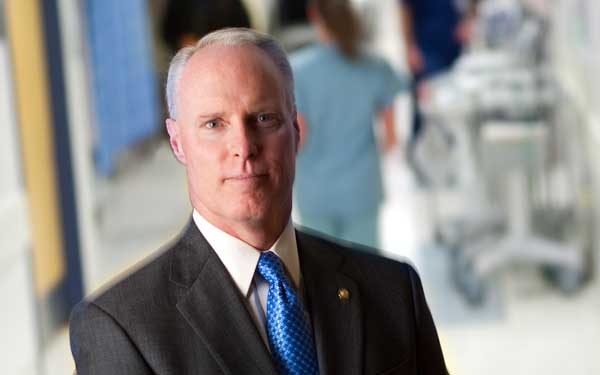 Modern Healthcare lists Scripps president and CEO in top 100
Scripps Health President and CEO Chris Van Gorder has been named No. 79 on Modern Healthcare's annual ranking of the nation's 100 Most Influential People in Healthcare, which was published in the magazine's Aug. 24 edition.
This is the seventh time that Van Gorder has landed on the prestigious list. Van Gorder oversees 15,000 employees at five acute-care hospital campuses and 28 outpatient clinics. Since becoming president and CEO in 2000, he has been instrumental in positioning the organization among the nation's leading health care institutions.
Distributed nationally, Modern Healthcare is one of the nation's largest health care trade publications. The 100 Most Influential People in Healthcare awards and recognition program honors individuals in health care who are deemed by their peers and the senior editors of Modern Healthcare to be the most influential individuals in the industry, in terms of leadership and impact.
Leader, author, innovator
In 2014, Van Gorder was honored by the American College of Healthcare Executives with the Gold Medal Award, the organization's highest honor.
Also in 2014, Van Gorder's book, "The Front-Line Leader: Building a High-Performance Organization from the Ground Up," was published. A chronicle of Scripps' turnaround and Van Gorder's journey from police officer to CEO of a major health system, the book was ranked No. 10 on the July list of best-selling business books compiled by the specialty business book retailer 800-CEO-READ.
In 2013, he received the Innovation Award from Press Ganey, a national firm specializing in patient experience improvement.
Board-certified in health care management and an American College of Healthcare Executives Fellow, Van Gorder also served as 2010 chairman of the association, an international professional society of more than 40,000 health care executives who lead hospitals, health care systems and other health care organizations.
In 2010, Van Gorder launched a new direction for Scripps. In anticipation of dramatic changes in health care, he turned the organization on its side, creating a horizontally matrixed management structure to identify and significantly reduce unnecessary variation in patient care and health care operations. The new approach led to $341 million in performance improvements from 2011 to 2014.
Learn more about Scripps Health, a nonprofit integrated health system in San Diego, Calif.