Join Our Scripps Team and "Rock the Stache" against Prostate Cancer
Former three-time Olympian Steve Scott and winning Aztecs coach Steve Fisher team up with Susan Taylor to raise awareness and funds for cancer care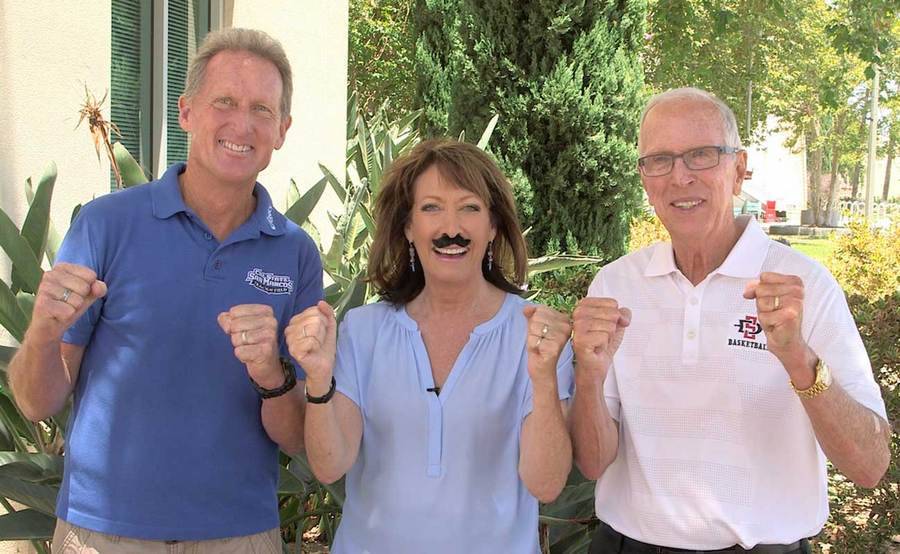 Former three-time Olympian Steve Scott and winning Aztecs coach Steve Fisher team up with Susan Taylor to raise awareness and funds for cancer care
Olympic runner and CSU San Marcos track & field coach Steve Scott and SDSU Aztecs' head basketball coach Steve Fisher have more in common than enviable sports records. Both were diagnosed with prostate cancer and overcame it with the help of Scripps.
This year, the two have teamed up to help Scripps with its "Rock the Stache" fundraiser led by Susan Taylor, executive director, external affairs.
"Twenty-nine thousand men die each year of prostate cancer," says Susan. "It is the second leading cause of cancer death among men, according to the American Cancer Society, and catching it early is key to survival."
Scripps Health offers a wide range of treatment options for prostate cancer, from minimally invasive surgery to advanced radiation.
Learn more about these two legendary cancer survivors
Join the coaches to win the fight against prostate cancer
Every November, men across the country sport a mustache to get people talking about this serious but treatable cancer.
Coach Fisher and Coach Scott invite you to join their team and help Scripps continue to provide leading edge cancer care. Challenge three friends to grow a mustache and post your photos on social media to raise awareness.
"I expect to see everyone sporting a mustache," says Coach Fisher.
And with a gift to Scripps Health Foundation, you can make a true difference in the lives of men diagnosed with prostate cancer.
"Let's win this marathon against prostate cancer," says Coach Scott.