Helping Paraplegic Patients Get Back on their Feet
With philanthropic support, Scripps Encinitas leads the way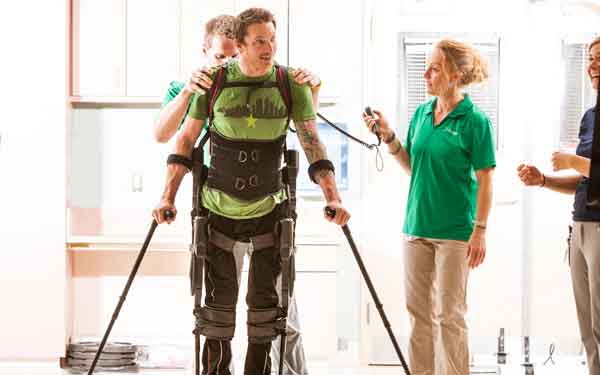 The Rehabilitation Center at Scripps Memorial Hospital Encinitas is the first facility in San Diego County to acquire a wearable robot called Ekso, which helps get paraplegic patients out of a wheelchair and back on their feet.
The use of the device is not a cure for paralysis. The benefits of using the device include an increase in bone health, improved cardiovascular health, a reduced risk of pressure ulcers, and a lower risk of pneumonia and blood clots as a result of getting patients upright and out of a wheelchair for longer periods of time. Equally important is the hope that the device offers patients. The device was purchased through the LaVerne and Blaine Briggs Rehabilitation and Neuroscience Fund at Scripps Encinitas.
"Using robots such as the Ekso in a rehab setting offers a potential for improved outcomes for patients and gets them up and moving their muscles and joints in a way that they just couldn't before," said Michael Lobatz, MD, neurologist and medical director of the Rehabilitation Center at Scripps Encinitas. "Additionally, when someone who has been in a wheelchair for several years is able to stand, take steps and look someone in the eye, the mental benefits are enormous."
Ekso is an adjustable, portable, bionic exoskeleton designed to help some patients with lower-extremity paralysis or weakness stand up and walk. With the patient providing the balance and proper body positioning, Ekso allows them to take steps and walk. Most patients are able to use the device within a single one-hour session with a physical therapist.
"I can't begin to describe what it was like to be up and walking again, it was a remarkable experience and very comfortable," said Hermes Castro, a paraplegic athlete who recently tried the Ekso device at Scripps Encinitas. "To look down and see that my feet were moving was just incredible. I didn't think this day would come so quickly."
An upgrade to the Ekso device will allow Scripps to use it for stroke rehabilitation in addition to spinal cord injury rehabilitation. The upgrade will enable the device to assist patients who are paralyzed on only one side of their body, a condition called hemiplegia, which often results from a stroke.
Help more patients "get back on their feet"