Helping Paraplegic Patients Get Back on Their Feet
With philanthropic support, Scripps Encinitas leads the way in rehab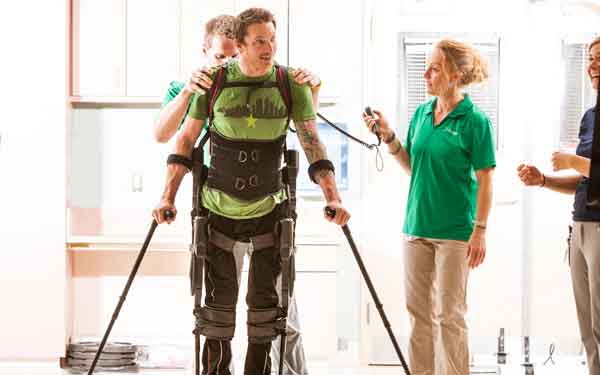 With philanthropic support, Scripps Encinitas leads the way in rehab
It's like something straight out of science fiction. A paraplegic patient stands up, albeit slowly, aided by two canes and an odd-looking harness. Followed closely by his therapist, he walks gingerly across the room. He won't be running any marathons, but standing up and walking? That's a victory.
This is just one way Scripps Memorial Hospital Encinitas Rehabilitation Center is helping improve quality of life for patients with spinal cord injuries. The harness — a robotic exoskeleton made by Ekso Bionics — is designed to help patients with paralysis or lower-extremity weakness get up and move. 
It works by attaching two motors to each leg. A controller helps physical therapists customize the robot for each person. The patient provides the balance and proper body positioning; the exoskeleton allows them to take steps and walk. Most patients adapt to the device in about an hour.
While the system does not cure paralysis — and patients don't get to take it home — it does provide substantial benefits. Simply getting out of their wheelchair improves muscle tone and bone density, boosts cardiovascular health and reduces the risk of pneumonia and blood clots. There's also the potential to regain some function. Patients can sometimes grow new nerve connections — an ability called synaptic plasticity — but only if they can move.
"Using robots, such as the Ekso, in a rehab setting offers a potential for improved outcomes for patients," says neurologist Michael Lobatz, MD, the rehabilitation center's medical director. "It gets them up and moving their muscles and joints in a way that they just couldn't before. Additionally, when someone who has been in a wheelchair for several years is able to stand, take steps and look someone in the eye, the mental benefits are enormous."
The exoskeleton was purchased through the LaVerne and Blaine Briggs Rehabilitation and Neuroscience Fund, which was created to support advanced programs at the Scripps Memorial Hospital Encinitas Rehabilitation Center.
LaVerne and Blaine seem straight out of central casting for the Greatest Generation. He volunteered to serve in the Army soon after Pearl Harbor, and ended up as a navigator on a B-24. His plane was shot down over the Italian Alps in late 1944, and he spent a short time in a German POW camp. Not long after his return from the war, Blaine met LaVerne, and it was love at first sight. Together they raised a family, ran a newspaper and eventually started a medical records business, ultimately retiring to San Diego in 1980.
In addition to the robotic exoskeleton, LaVerne and Blaine's gifts have funded the AlterG Anti-Gravity Treadmill and a driving simulator to help patients get back on the road. They've also supported specialized training for therapists, nurses and education clinics to help patients manage wheelchairs and address concussions and multiple sclerosis.
During the height of the Iraq and Afghanistan wars, the couple funded the Military Brain Injury Day Treatment Program, which helped rehabilitate more than 100 service members with traumatic brain injuries. They have been supporting Scripps Encinitas for over 20 years and are impressed by the program's care and technology.
"A bionic skeleton is the kind of thing we used to only see in our imaginations or on television," says Blaine Briggs. "Thanks to Scripps, this extraordinary device is here for the community today — and we're proud to support such important medical advances."
This content appeared in San Diego Health, a publication in partnership between Scripps and San Diego Magazine that celebrates the healthy spirit of San Diego.