Funding Sought to Expand Pocket Ultrasound Training Program
Handheld device lets physicians see inside a patient at the bedside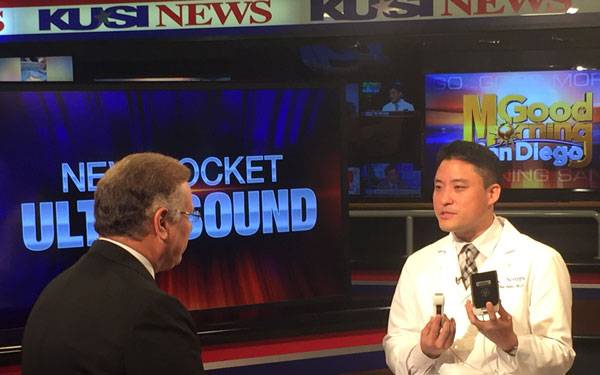 Handheld device lets physicians see inside a patient at the bedside
A pocket ultrasound device is revolutionizing how internal medicine resident physicians at Scripps Mercy Hospital San Diego learn how to perform basic physical exams on patients. The training program, known as CLUE, incorporates miniaturized, digital technology that lets doctors see the inner workings of a patient's heart, lungs and major arteries in real time.
Paul Han, MD, is one of the program's instructors, and he recently talked about the device and the unique training effort in a number of TV news interviews.
One barrier is a lack of access to the devices. The program currently only has 10 pocket ultrasounds to share among about 30 resident physicians. A new campaign is seeking to raise $200,000 to purchase 25 more pocket ultrasounds so that more patients can be examined with this state-of-the-art technology and more doctors can learn how to use them.
For more information about the fundraising campaign, visit scripps.org/supportCLUE or call 1-800-SCRIPPS (800-727-4777).
Watch the KPTV (Portland) interview: The Morning Scramble
Watch the KAZT TV (Phoenix) interview: Good Day Oregon