From Patient to Advocate – Heart Attack Survivor Credits Scripps for Life-Changing Care
Scripps patient advocates for women's heart health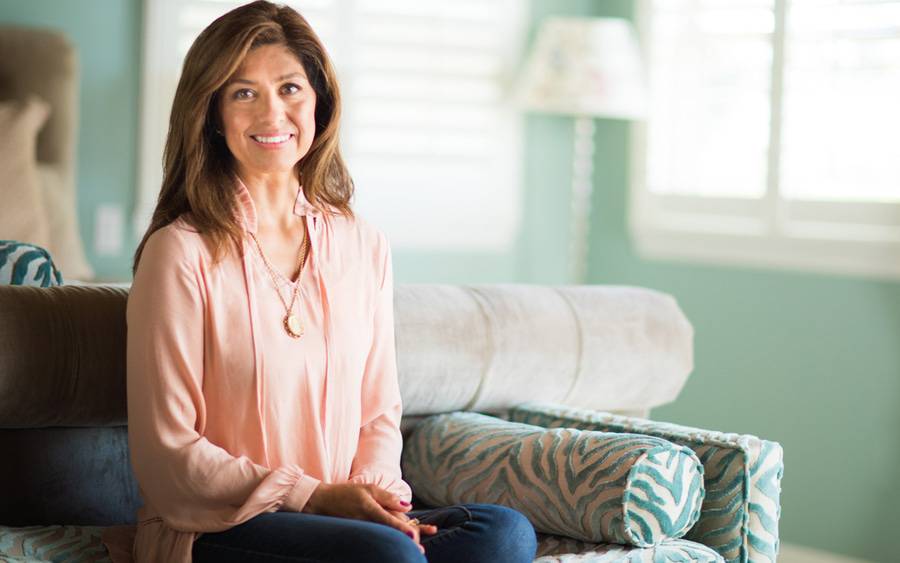 Scripps patient advocates for women's heart health
When Bertha "B" Verde began having severe migraines at age 16, she never imagined that her headaches might be a risk factor for a serious heart attack 35 years later. 
Her migraines continued throughout her teens and 20s, and in her 30s, B started to have chest pain as well. She consulted a physician and was diagnosed with coronary vasospasm, a sudden, powerful constriction of a coronary artery that prevents blood from flowing freely to the rest of the body and has been associated with migraines. In addition, B learned she had a patent foramen ovale (PFO), commonly known as a hole in the heart, which had been present since birth.
Discovering her serious heart condition
She began taking heart medication, and when she did have a vasospasm, she simply sat down and waited until the chest pain and tightness passed. "I never really thought anything about it," recalls B, now 52. "I've always been a very healthy person, very active, and I thought my condition was benign." 
It wasn't. In the spring of 2015, B joined a vigorous and demanding exercise "boot camp" program. On the eve of her final day, she was chatting with her husband at home in Poway and suddenly felt a strange sensation in her throat and chest. She drank water, but it didn't help.
"I realized I was getting a vasospasm, but it wasn't going away. It was getting stronger," she says. "It wasn't a sudden chest pain like you hear about with heart attack. It came on very gradually."
The pain started to spread to her neck, and then into her teeth. She began to feel oddly fidgety, and realized this was not a normal vasospasm.
Her husband took B to the hospital, where doctors discovered that her level of troponin – a protein that the body releases when the heart is damaged – was rising quickly. Tests revealed that a major artery was completely blocked, and surgeons placed overlapping stents in the artery to keep it open. They couldn't explain, though, why it had happened.
"When the doctor told me I'd had a heart attack, I was in shock," she recalls. "My biggest fear was going to sleep, because I was afraid I wouldn't wake up. It was very scary."
Several months later, B followed up with Scripps cardiologist Todd Hitchcock, MD, who suspected that B had experienced a spontaneous coronary artery dissection (SCAD). A sudden tear in the artery wall, a SCAD allows blood to pass through the wall, blocking the artery and potentially causing a heart attack. Typically, a SCAD has no warning signs or risk factors, and can be difficult to diagnose before a heart attack occurs.
To help strengthen her heart and get her back to her active lifestyle, B joined the cardiac rehabilitation program at Scripps Center for Integrative Medicine. "The cardiac rehab crew is amazing," she says. "They're very good at making sure you are comfortable and have the confidence to start exercising again."
B credits her Scripps heart team with providing the care and support she needs to regain her health. "The professionals at Scripps have always been there for me every step of the way, from cardiac rehabilitation to my cardiologist to the nurses who help me whenever I have any questions," B says. "I definitely feel I'm on the best road to recovery I ever could have imagined."
Heart care for women at Scripps
Researchers now know that heart disease in women is very different than it is in men, and it is vitally important for women to understand and recognize the risk factors and symptoms of female heart disease. The new Scripps Women's Heart Center is dedicated to providing heart disease diagnosis, treatment, education and prevention exclusively for women, by women cardiologists.
"I tell women who have never been checked for heart disease risk to go to the doctor and get a baseline, versus waiting until there is a problem, because then it can be too late," she says. "You never know. If it could happen to me, it could happen to anyone."
Since her heart attack and subsequent heart damage, B is still active, but less intense. She says her perspective on life has definitely changed.
"I let a lot of the little things go, like only using the good china for special occasions," she says. "Now we use everything in the house. Nothing is off-limits."