Car Safety Tips for Parents with Infants and Young Children
Car seats and boosters protect children in a crash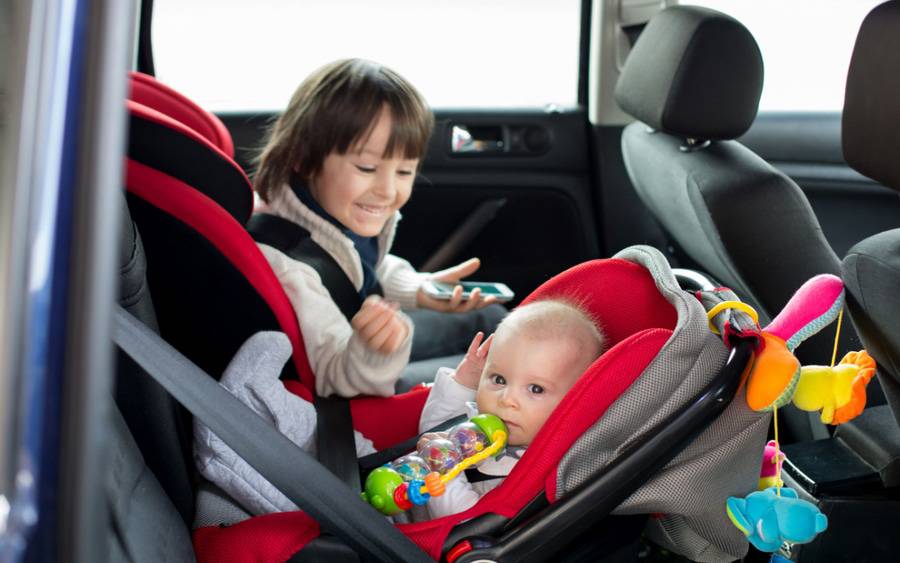 Car seats and boosters protect children in a crash
Keeping your children safe is always important. For parents with infants or young children, that means making sure their little ones are always secure when traveling by car.
Motor vehicle injuries are the leading cause of death for children in the United States. Lack of car seat safety is often a factor.
In 2020, 607 child passengers aged 12 and under died in car crashes and more than 63,000 were injured, according to the Centers for Disease Control and Prevention (CDC). Nearly 40 percent of the children killed in a crash were not buckled up.
Parents can significantly lower the risk of injury on the road by practicing proper use of child safety seats. This includes using age and size appropriate car seats, installing them correctly and following road safety guidelines.
"When it comes to your children and the car, prevention is the best medicine," says Shamini Govender, MD, a pediatrician at Scripps Clinic Santee. "Make sure your children are secure when riding in the car. That means knowing where to place the seat and how to properly buckle them. This will reduce the risk of injury or harm in the event of an accident."
Grandparents should also become familiar with car seats for babies, especially if they plan to drive around with very young grandchildren.
Car safety seats save lives
Car safety seats, when used properly, can significantly reduce the risk of injury or even death in car crashes. They have specific height and weight limits and are designed for maximum protection.
Car seats reduce the risk of death for infants by 71 percent, and by 54 percent for toddlers, (1 to 4 years old), according to the National Highway Traffic Safety Administration (NHTSA).
Car safety seats are made to safeguard infants and young children. Their bodies are not strong enough to handle a car crash like an adult's can. The seat absorbs much of the force, minimizing direct impact on the child.
Harness straps, shoulder belts, or lower anchors can be used to secure the child in the seat. Chest clips are used to ensure that the harness is correctly positioned. All these parts work together to limit excessive movement and reduce the risk of serious injury.
Car seat and booster seat laws vary by state. So, check your state's specific laws.
Generally, children ages 13 and under should always ride in the back seat.
Rear-facing car seats: birth until ages 2-4
The American Academy of Pediatrics and the National Highway Traffic Safety Administration (NHTSA) recommend all infants and toddlers should ride in a rear-facing car safety seat for as long as possible.
Rear-facing car seats are better at absorbing the impact of a crash, particularly in frontal collisions. "A rear-facing car seat provides the best protection for the head, neck and spine," says Dr. Govender.
These seats should be used until the child reaches the seat's maximum height and weight limits, usually around the ages between 2 and 4.
Never place an infant in the front seat as they can be seriously injured by a passenger side air bag.
Types of rear-facing car seats
There are different types of rear-facing car seats:
Infant-only seats are for newborns and small babies. They are portable, which makes them convenient.
Convertible seats are bigger and stay in the car. They can be used in rear- or front-facing positions, depending on the child's size.
All-in-one seats also stay in the car. They can be used in rear and front-seat positions and as a booster.
All are safe options. Your choice will largely depend on the child's size and the type of vehicle you have.
"Do your homework and make sure you install the seat properly. A car seat is one of the most important pieces of safety equipment you'll ever use," Dr. Gavender says.
When children outgrow their rear-facing car seat, they should be buckled in a forward-facing seat with a harness for as long as possible.
They should continue using the seat until they reach the maximum height or weight limit specified by the manufacturer or until age 5. The safety harness and tether on these seats limit the child's movement during a crash.
When children outgrow their forward-facing seats, they should be buckled in booster seats.
Boosters are forward-facing seats that use the car's seat belt. These seats raise and position a child. This ensures the vehicle's lap and shoulder belts fit properly on the strongest parts of the child's body.
NHTSA recommends keeping small kids in booster seats until they are big enough to fit into seat belts properly without a booster seat. This is generally until the child is 4 feet 9 inches tall and between 8 to 12 years of age. Most children will not fit in vehicle seatbelts until 10 or 11 years old. 
A seat belt fits properly when the lap belt is across the upper thighs, and the shoulder belt is across the center of the shoulder and chest.
Installing car seat correctly
Correct installation of a car seat is critical for safety. A poorly installed car seat can fail to protect your child in a crash.
Check the label of your car seat. Make sure it is the correct one for your child's age, weight and height. Also check the expiration date.
Check the car seat or booster seat manual for installation instructions.
Once your car seat is installed, check it for stability. It should not move more than one inch from side-to-side or front-to-back. Once your child is securely strapped in, check the strap at your child's shoulder. If you can't pinch any extra webbing, you are ready to go.
If you are uncertain about installing the seat, don't worry. You can get help. Reach out to a certified child passenger safety technician near you. They can make sure the seat is set up correctly. These services are usually free.