Scripps Heart Patient Races Across the West with Twisted Swissters
Patient is monitored on his race accross the west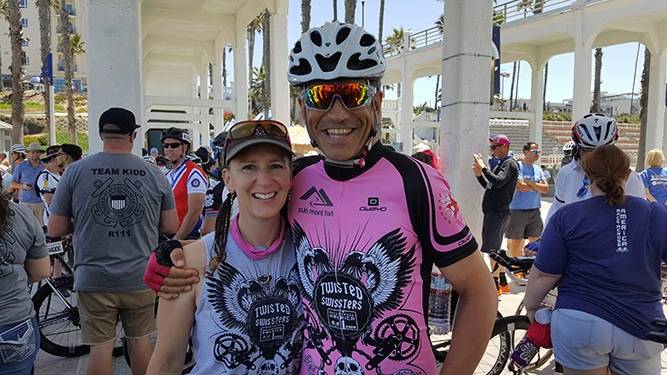 Patient is monitored on his race accross the west
Philippe May is one of the world's fastest skiers. A two-time world champion and a 12-time Swiss champion in speed skiing, he is one of only five skiers to exceed 156 mph down the slopes.
May is also a world-class cyclist in San Diego this week for his third attempt at one of the world's most challenging endurance bicycle races – Race Across the West (RAW) – a four-day ultra-cycling race beginning in Oceanside and ending in Durango, Colorado.
Upon his first attempt to enter the six-day Race Across America event in San Diego in 2014, May was diagnosed with a life-threatening heart condition. He learned from Scripps physicians that he had a progressive heart condition called arrhythmogenic right ventricular dysplasia (ARVD). On June 13, 2014, Cardiologist John Rogers, MD, who is a specialist in heart arrhythmias and their treatment, implanted a cardioverter defibrillator in May's chest to ensure his heart wouldn't stop if he went into cardiac arrest, a risk related to ARVD/C and strenuous activity. May's father died of cardiac arrest suddenly at age 39, and his uncle died suddenly a few days later, in his early 40s.
May and his Twisted Swissters teammates returned in June 2015, and competed in the Race Across America to raise money for the Scripps Prebys Cardiovascular Institute. Dr. Rogers remotely monitored May's heart on his cell phone, to make sure that the implanted defibrillator was working. May followed that by hiking 19,000 feet to the top of Mt. Kilimanjaro – the highest mountain in Africa. Dr. Rogers monitored Philippe's heart rhythms the whole way, from his cell phone in San Diego.
Earlier this year, May competed in the World Cup Speed Skiing Races in Andorra, in the Pyrenees Mountains. He set a course record coming down the slopes at 125 miles an hour.
In June, 2017, May checked in with Dr. Rogers prior to entering Race Across America and got approval to compete. Riding solo, he plans to go for as long as he can without sleeping. May's wife and team captain Tracie, along with two paramedics, will follow him in the team support vehicle for four days while his doctor in Switzerland remotely monitors his defibrillator.