Scripps La Jolla ICU Registered Nurse Wins CARE Award
Sheilah Rabii nominated by grateful former patient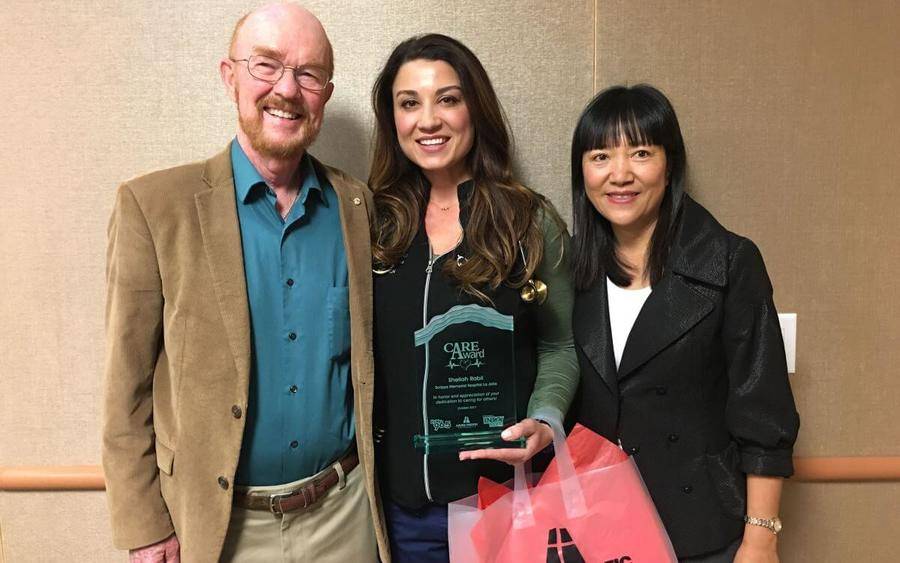 Sheilah Rabii nominated by grateful former patient
Sheilah Rabii a registered nurse in the intensive care unit at Scripps Memorial Hospital La Jolla, was recently honored with a CARE award given to outstanding nurses by CBS Radio affiliates in San Diego.
Alan Olson, a former patient at Scripps La Jolla, nominated Rabii for the award, citing her compassionate care during a difficult period. Olson, 75, was hospitalized for several weeks after heart surgery and credits Rabii for helping to save his life.
"In addition to her efforts immediately following my surgery, she continued to go above and beyond on my behalf in the days and weeks that followed," Olson wrote in his nomination. "She called in on her days off to check on me, stayed late to look after me, and despite being reassigned to other patients, she made it a point to follow up on my status daily."
Olson, a motivational speaker, made another connection with Rabii after learning she had once been a student in his sister's high school math class in Denver.
Olson, an avid runner, today is back to his normal weight and competitiveness. He's able to do 80 push ups and run five miles without stopping. He's also very grateful. "I thank my family, doctors and friends for all they did. I thank God for nurse Sheilah Rabii!"
Representatives from CBS Radio's KYXY 96.5 and Energy 97.3 and award sponsor Azuza Pacific University recently surprised Rabii with the CARE award during a work break. Olson and his wife, Meimei, were also present.
To view photos of Rabii and other recent Scripps nurses who have won the monthly CARE Award, visit CARE award winners 2016-2018.
Scripps captured the moment when the award was presented to Rabii. Watch the Scripps video.