New Cardiac Procedure Keeps Athlete in The Race
Implantable device helps champion skier and cyclist Philippe May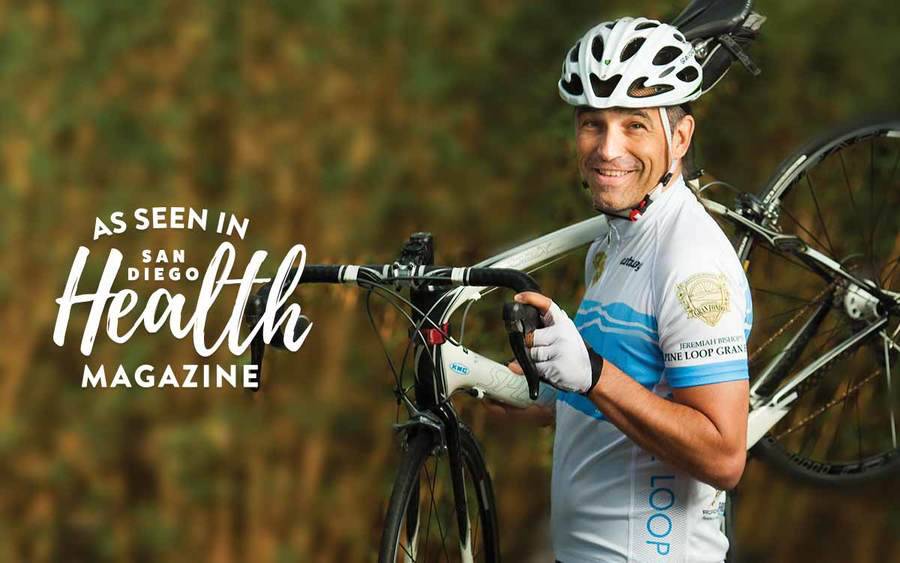 Implantable device helps champion skier and cyclist Philippe May
The last thing Philippe May expected was a heart problem. The champion speed skier and cyclist was flying to San Diego from his home in Switzerland to participate in a cross-country bicycle race.
"I was on top of my game physically," says May. "I was more in shape for Race Across America than I had ever been in my life."
But something was wrong. May felt lightheaded on the flight, so his wife took him to urgent care soon after he landed. Before long, he was getting a diagnostic workup from Scripps Clinic electrophysiologist John Rogers, MD, who specializes in heart rhythm disorders.
May has a potentially fatal condition called arrhythmogenic right ventricular dysplasia (ARVD), in which normal heart muscle in the lower chamber is replaced by fatty scar tissue, and the heart does not pump normally.
"Without warning, someone with ARVD could develop a sudden onset heart rhythm problem which, if it doesn't stop on its own, could cause them to pass out," says Dr. Rogers. "If it doesn't stop in a few minutes, they could die."
For May, the diagnosis was understandably scary. But it also illuminated his family history — his father was 38 and his uncle 40 when they died suddenly, within days of each other. "At the time, I didn't make the connection," he says. "Now I understand this is a genetic disease, and most likely what they died of — in the 1970s, before ARVD was discovered." 
May needed an implantable cardiac defibrillator to monitor his heart and quickly intervene. The device acts as a pacemaker and, if there's a life-threatening arrhythmia, it can deliver a shock directly to the heart. "It's kind of like having a paramedic in your chest who will give you a shock, if you have a heart rhythm problem," says Dr. Rogers. "It can treat the heart going too slow, too fast or irregularly."
Perhaps the most groundbreaking feature of May's device is that it's wireless. The defibrillator came with a bedside station that communicates with it, which gives Dr. Rogers the ability to monitor May's condition in Switzerland all the way from La Jolla. "I can pull up his defibrillator through an app on my cell phone or the computer in my office and see if he has had any rhythm problems, how his heart's doing, whether the device is functioning properly."
Innovators in cardiovascular care
Scripps plays a critical role in bringing advanced technologies like these wireless defibrillators to patients. From Encinitas to Chula Vista, Scripps cares for over 76,000 heart patients per year. Scripps cardiovascular care is top-ranked in San Diego and has been nationally ranked by U.S. News & World Report for 13 years (Scripps La Jolla Hospitals and Clinics).
When medical device companies need help with clinical trials, they come to Scripps. The companies gain insights from one of the best cardiovascular programs in the nation, and patients get access to emerging technologies. In addition to helping wireless defibrillators move through FDA approval, Scripps and Scripps Clinic heart specialists have conducted trials for the Watchman, which helps prevent stroke in atrial fibrillation patients.
Atrial fibrillation is an electrical abnormality of the upper chambers of the heart that decreases the heart's pumping ability. Blood may pool in the upper chambers, causing blood clots to form. These blood clots may travel to the brain, causing stroke. Blood thinning medications have been the mainstay of stroke prevention for patients with atrial fibrillation for many years, but they come at a cost in the form of increased bleeding risk. "Many patients are not able to take blood thinners because of an increased risk of bleeding," says Douglas Gibson, MD, director of cardiac electrophysiology at Prebys Cardiovascular Institute. "When I first stared practicing, we had nothing to offer these patients. It was totally disheartening to send them home without stroke protection."
But there's another solution: closing off a relatively obscure part of the heart called the left atrial appendage (LAA). Attached to the heart's upper left chamber, this ear-shaped formation can allow blood to pool, increasing the risk of clots that could eventually reach the brain. Scripps and Scripps Clinic physicians worked closely with engineers at Boston Scientific to test the Watchman, a small parachute-like device that attaches to the LAA.
"The way the Watchman works is it occludes the appendage," says Dr. Gibson. "You anchor the device in the LAA, and the body forms a layer of heart muscle over it, blocking off the appendage."
Scripps performs more LAA procedures than any other place in the country, making it a magnet for device manufacturers developing new technologies. Electrophysiologists are working with Boston Scientific, Abbott and other manufacturers on newer LAA occlusion devices, with clinical trials starting this year. There are a variety of new technologies working their way through the pipeline. Scripps and Scripps Clinic heart specialists are also investigating balloon-based ablation. Currently, electrophysiologists must destroy each misfiring pacemaker cell one by one. However, these aberrant cells are often arrayed around the mouth of the pulmonary vein. An inflated balloon that transmits heat could, theoretically, ablate many of these cells at once, a more efficient approach.
Dr. Rogers is excited about subcutaneous defibrillators, which are implanted under the skin across the chest but don't actually touch the heart. He helps lead a nonprofit that screens high school students for potentially fatal heart abnormalities, and occasionally they find one. Subcutaneous devices could be particularly helpful for these young patients, reducing the need for iterative surgeries as they grow or as their device wears out. "If I can put the defibrillator just under the skin, rather than in the heart," he says, "that's attractive."
Scripps is also testing an implantable heart monitor. Smaller than a AAA battery, the device could continuously track heart activity 24/7, for months. "Sometimes, patients have infrequent passing out spells," says Dr. Rogers. "It might happen every few months. You wouldn't catch the issue in an office visit, but an implantable monitor will record the event."
Beyond the stroke risk, in many patients atrial fibrillation can cause unpleasant symptoms as well, like palpitations, shortness of breath and fatigue. Medications are often ineffective at controlling them, and can have side effects. "We are constantly researching the latest ablation technology and techniques to cure or control atrial fibrillation," Dr. Gibson says,"such as catheter ablation, which is very effective. For most patients, we can make them feel substantially better."
For Phillipe May, and many other patients, these technologies are winners, restoring their health and quality of life.
"Today, I'm back on top of my physical conditioning," he says. "I never work out without a heart rate monitor, but I feel safer knowing that, if there is an issue with my heart, I have the security of the defibrillator. I have been able to race in World Cup speed skiing again. I even won a World Cup race in Andorra last season.
"I will always have my heart condition in the back of my mind. However, I feel more in control of the situation. Dr. Rogers and Scripps have given me the freedom to continue to live the way I choose."
This content appeared in San Diego Health, a publication in partnership between Scripps and San Diego Magazine that celebrates the healthy spirit of San Diego.