Scripps Clinic Cardiologist First in Nation to Use Smallest Drug-Eluting Stent Following FDA Approval
Newly approved stent tackles challenge of tiny vessels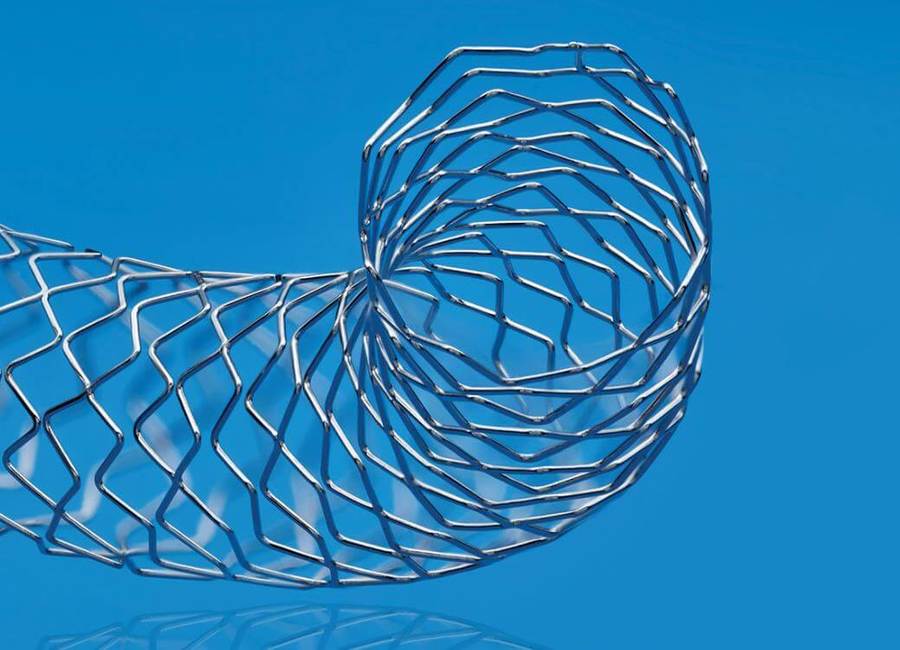 Newly approved stent tackles challenge of tiny vessels
A Scripps Clinic interventional cardiologist this week became the first in the nation to use the smallest drug-eluting stent available in the U.S. market following approval of the device by the Food and Drug Administration (FDA).
Richard Schatz, MD, used two Medtronic Resolute Onyx 2.0 mm stents to clear tiny arteries in the heart of Charles Melber, 61, during an outpatient procedure Monday at the John R. Anderson V. Medical Pavilion located on the campus of Scripps Memorial Hospital La Jolla.
Melber, who owns a home construction business based in Orange County, opted for the minimally invasive procedure in hopes of relieving chest pain after a scan of his heart revealed blockage in an artery too small to be opened using more conventional stents. He said the restriction had led to trouble breathing and limits on his activities in recent months.
"Our first patient has persistent cardiac pain, but since his blocked vessels are so small we are hoping this new stent will provide him long-term relief to improve his quality of life," said Dr. Schatz, a cardiology pioneer who co-invented the first successful coronary stent in the mid-1980s.
Stents were created as a minimally invasive alternative to performing open-heart bypass surgery to restore blood flow to areas of the heart affected by vessel blockage.
"We have come a long way since the first angioplasty procedure in 1977," Dr. Schatz said. "We can now treat virtually all patients with blocked coronary vessels, so very few of them need bypass surgery."
The Resolute Onyx 2.0 was approved by the FDA for commercial use following a clinical trial that showed the device was effective at safely clearing extra-small vessels in difficult-to-reach areas of the heart one year after placement. Scripps Clinic interventional cardiologist Matthew Price, MD, led that study as its principal investigator.
Clinical trial led by Scripps
The prospective, single-arm trial enrolled 101 patients through 20 sites in the United States and Japan, including Scripps Memorial Hospital La Jolla. Results of the study were presented at the 2017 EuroPCR Annual Meeting and simultaneously published in the American College of Cardiology journal JACC: Cardiovascular Intervention.
"The Resolute Onyx 2.0 mm drug-eluting stent is an important addition to our catheterization laboratory treatment arsenal because it allows us to treat blockages that previously were too small to open safely and effectively in a consistent and durable fashion," Dr. Price said. "This stent and our key role in its evaluation prior to FDA approval are great examples of how Scripps physicians are helping to bring new technologies into the cath lab to benefit our patients and patients around the world."
Coronary artery disease is the most common type of heart disease in the United States, killing 370,000 people each year and causing about 735,000 heart attacks, according to the Centers for Disease Control and Prevention. Problems occur when plaque buildup in the walls of arteries block the supply of blood to areas of the heart.
When medications aren't effective, a blocked vessel often can be treated with angioplasty or stents. However, restrictions in the smallest vessels have long been difficult, if not impossible, to clear even though a majority of those vessels are located in critical locations in the heart.
The Resolute Onyx milestone is the latest example of Scripps' leadership and innovation in cardiology.
Ranked No. 1 for heart care in San Diego County by U.S. News and World Report, Scripps Health is the largest provider of heart care in the region, caring for more than 76,000 cardiovascular patients every year. Its Prebys Cardiovascular Institute brings together leading researchers, physicians, staff and technologies in the most advanced center dedicated to heart care on the West Coast.
Learn more about Scripps Health, a nonprofit integrated health system in San Diego, Calif.