What to Expect from Scripps MD Anderson Cancer Nurse Navigators
Nurse navigators aim to help more patients make it through cancer treatment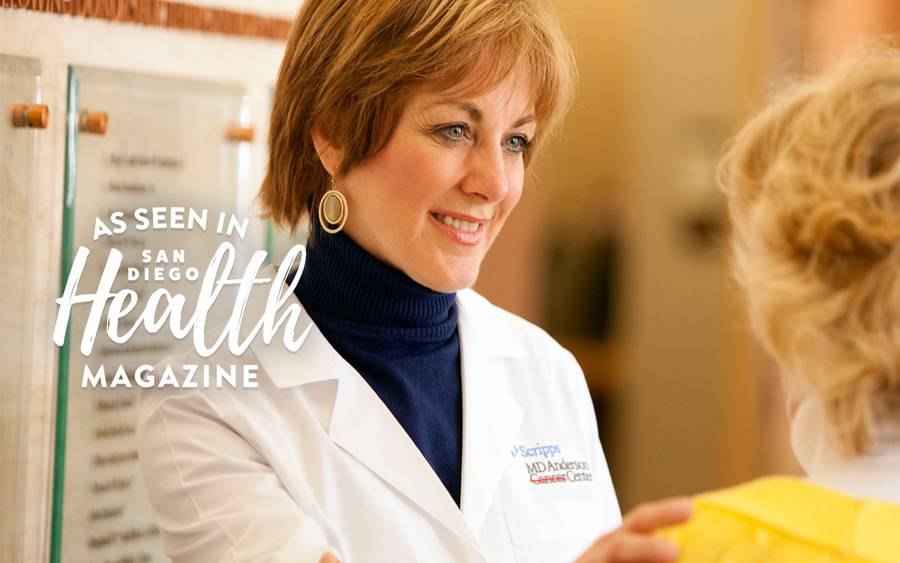 Nurse navigators aim to help more patients make it through cancer treatment
A breast cancer diagnosis casts a very large shadow. After the most pressing concerns, about mortality and how the disease will affect loved ones, there's also the relentless logistics of cancer care. Suddenly, there are so many appointments: oncologists, imaging specialists, surgeons. To complicate matters further, the details are often technical and can be difficult to decipher.
To help patients overcome these issues, Scripps MD Anderson Cancer Center is expanding its cancer nurse navigator program.
"We contact patients who are newly diagnosed with breast cancer, review some of their pathology and imaging, and let them know what they can expect from their care," says veteran navigator Bev Mangerich, RN. "We also educate them on breast cancer and its treatments and facilitate appointments."
The latter is no small task. Women who may have visited a doctor only once or twice a year are suddenly inundated with five to 10 appointments, some of which must be scheduled in a particular order.
In addition, nurse navigators help patients deal with treatment complications, identify resources such as support groups and other community organizations, and refer them to websites where they can find accurate information.
"We tailor the approach based on the patient," says Mangerich. "Some people want all the information. Some say, 'Don't give me all the options, just tell me what to do.'"
Carole Cesarone, who had stage four cancer between two muscles below the clavicle, really appreciated the support. "You're so confused," she says. "You're clutching all this paper and going, 'What is this?' Bev read my pathology reports and helped me with things I didn't understand. She really took the time to listen, and it made me feel a lot better going through it all."
Scripps MD Anderson has been increasing its number of nurse navigators, trying to reach every breast cancer patient within four hours of their referral. For Mangerich and her fellow nurses, it's an incredibly rewarding role.
"A woman feels so vulnerable when she's been diagnosed with breast cancer," she says. "I find it such a privilege to walk with them during this crisis."
This content appeared in San Diego Health, a publication in partnership between Scripps and San Diego Magazine that celebrates the healthy spirit of San Diego.