Top Health Tips Every Woman Should Know
Anticipating your body's changing needs will help you live fully and age well
Anticipating your body's changing needs will help you live fully and age well
Women's bodies change over time, but no matter your age, health is the most important factor. From checkups to prenatal care to menopause treatment, OB-GYNs are dedicated to women's health and well-being.
Dale Mitchell, MD, chair of Scripps Clinic department of obstetrics and gynecology, lists the top concerns that come with each stage of life and what women should discuss with their doctor to ensure they're receiving the best possible care.
From your late teens to age 25
HPV vaccination is a priority. Most insurance plans will cover HPV vaccinations to age 26. With recent FDA approval to age 45, insurance coverage may soon extend. 
Sexually active women should discuss contraception with their doctor. 
Pap screening should start around age 21. Dr. Mitchell recommends testing every three years for women 21–29.
Stay active, eat healthy and get plenty of rest. The habits you develop now can set the tone for the rest of your life. 
Healthy women under 30 should have a physical every couple of years; women 30 to 40 should have a physical and pelvic exam yearly. 
From age 30 to 65, Pap and HPV tests are recommended every 3–5 years. 
Women having children should consider a carrier screening for autosomal recessive disorders, like cystic fibrosis. 
Compile a family health history. Note who's had cancer and what type. Consider genetic testing if your family history warrants it. 
The years leading into menopause bring significant changes for most women. Have a physical once a year and talk to your doctor about any changes, such as pelvic pain or abnormally heavy bleeding. 
Talk to your doctor about mammograms, since different health care agencies recommend starting at different ages. 
Talk to your doctor about birth control. The highest unintended pregnancy rate in the US is in women between 40 and 50. 
Start taking calcium supplements and vitamin D in your late 40s. 
African American women should begin colon cancer screenings at 45.
You may switch from an OB-GYN to an internist. Regardless of the type of doctor you see, continue regular exams and monitor key health indicators, like cholesterol and blood pressure. 
Colon cancer screening should begin at 50 for non–African American women. 
Consider hormone replacement therapy. 
Get a mammogram every year. 
Have a pelvic exam yearly and a Pap every few years. The 50s and 60s are the peak years for ovarian cancer.
Age 65 and over
Women without risk factors for cervical cancer and who have always had normal Paps can potentially discontinue them. 
Bone density testing should start around age 65.
"Knowing what health concerns to look out for in every stage of life only makes your relationship with your doctor stronger," Dr. Mitchell says. And that relationship is one of the keys to helping you stay healthy and active for decades to come.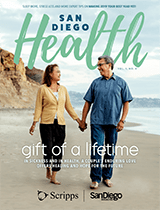 This content appeared in San Diego Health, a publication in partnership between Scripps and San Diego Magazine that celebrates the healthy spirit of San Diego.