Delivering Hope: The Scripps Del Mar Vaccine Super Station
How Scripps rapidly implemented site with ability to give 10,000 shots a day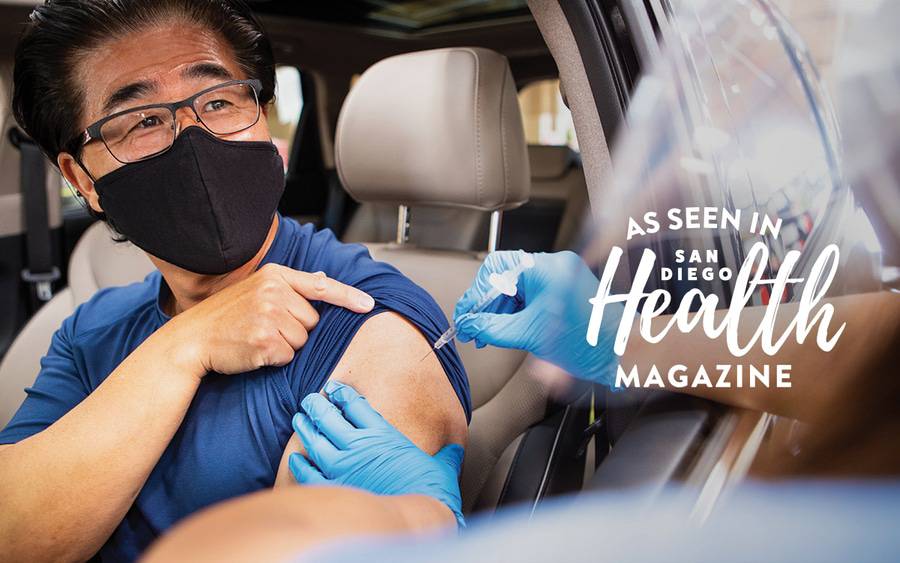 How Scripps rapidly implemented site with ability to give 10,000 shots a day
It's early 2021. San Diego has been grappling with the effects of the pandemic for nearly a year: months on end of battling the virus, and living with restrictions, confusion and fear. The first iterations of the COVID-19 vaccine have been approved for emergency use and it seems like there's finally light at the end of the tunnel. 
As conversations among family and friends turn to who can get theirs and when, health care providers are asking a different question: How can we get these vaccines into arms in the most efficient way possible? 
Scripps leaders put their heads together and quickly flexed their commitment to the community by establishing individual vaccine clinics at several of their locations. But as more San Diegans became eligible for the vaccine and the county's allocation increased, they knew they had to think bigger.
Building on past experience
Scripps is no stranger to disaster response. Its medical teams had pitched in after 9/11, Hurricane Katrina and the slew of devastating wildfires that ripped across Northern California two years ago. It was time to draw upon that experience once more. 
The dozen or so small vaccination sites across the Scripps system that were administering a few hundred shots a day just didn't have the capacity to handle a large volume of vaccines, nor did their successors at Scripps hospitals. So, Scripps worked with the County of San Diego to ramp up its vaccination efforts at one of the most expansive locations around: the Del Mar Fairgrounds.
"Each time we opened up a vaccine clinic, we actually designed them a little bit differently," says Chris Van Gorder, Scripps president and CEO. "Each time we learned better and better how to lay out the logistics so that patients were not inconvenienced." 
That technical know-how, along with cooperation from nearly every facet of the Scripps system, made possible the Scripps Del Mar Vaccination Super Station. The massive drive-through and walk-through clinic opened February 12 with nine lanes, each with three vaccination sites, meaning 27 people can be vaccinated at a time. 
Van Gorder says the Super Station can administer up to 10,000 shots a day. In fact, 5,300 were efficiently given in just four hours. The issue is having the supply.
Dealing with the unknowns
The Super Station's capacity ultimately depends on the number of vaccine doses available, and in the first few months' supply was insufficient to meet demand. Word of the Super Station's next allotment comes just a few days in advance, and since Scripps doesn't manage the overall vaccine supply, there's no way of telling how much of this "liquid gold" they'll receive from week to week. 
Unforeseen problems can be especially frustrating, like in mid-March when a glitch in the state's scheduling software left the Super Station overbooked by more than 1,800 appointments. Scripps reached out for more vaccine but was unable to get it. They then had to tap into the supply needed for later that week, adjust staffing levels to accommodate the extra patients and reschedule those whom the redirected vaccines were originally slated for. And believe it or not, the clinics have quite a few no-shows, which creates a whole new issue because Scripps is required by the state to give out every single dose. 
"Every week is a bit of a numbers game," says Ghazala Sharieff, MD, Scripps chief medical officer, acute care, clinical excellence and experience. "You cross your fingers and hope you get enough doses to come in." 
Fortunately, Scripps had been able to test out a few different models at its earlier clinics and prepare as best they could to apply them at a larger scale. They also learned from other super stations: To deter people from showing up without an appointment, hoping to receive a dose leftover at the end of the day, they set up a waitlist of eligible people who could be summoned if and when that happened. "The advantage of being at Scripps is that we are very nimble," Dr. Sharieff says. 
Teamwork makes the dream work
Teamwork makes the dream work
"When there's a fire, we run to it. We rally around a cause, and our community is our biggest cause." 
Tim Collins, Chief Operating Executive, Scripps Green Hospital
Many players work together to ensure the Scripps Del Mar Vaccination Super Station runs as smoothly as possible. At the helm are Tim Collins, chief operating executive at Scripps Green Hospital, site lead for the Super Station; Eric Cole, corporate senior vice president, human resources, who handles staffing for clinical teams and volunteers; Michelle Meyer, director of transplant services, who oversees all Super Station operations; and Steve Peterson, senior director, facilities operations, who coordinates with fairgrounds staff and manages traffic flow and security.
"We wanted to do something greater for the community," says Collins. "We had already been vaccinating our patients and were learning a ton, and our goal was to step forward as we always do. When there's a fire, we run to it. We rally around a cause, and our community is our biggest cause." 
Their days usually begin at 5 am, analyzing the number of cars that pass through, the required volume of clinical staff and volunteers, and narrowing down the resources needed to get the job done. 
On a typical day about 120 workers are on site, not including the leadership team. The volunteers arrive at 6:45 am and receive training specific to the areas where they'll be working. An operational meeting takes place at 7:05 am. Cars begin lining up 30 to 60 minutes before the Super Station opens; and facilities, logistics and traffic control get set up to handle the potentially dangerous job of managing the hundreds of vehicles that go through the lines each day. 
Then it's showtime. "We celebrate when we open up and the first car comes in, which is my favorite part of the day," Cole says. 
As the hours and cars go by, one thing remains certain: No two days are ever the same. The consistency of the Super Station's vaccine allotment drives everything — from the number of vaccinators and pharmacists needed to which days the Super Station will even be open. "We're constantly changing the model," Meyer says. "We adjust it almost every day and try to see how much more we can get out of it." 
"We've got a culture of constant learning," Collins adds. "We try to put one step in front of the other every single day to greater benefit our community." Traffic patterns also change from day to day, and staff members must confer with one another and their counterparts at the fairgrounds to prevent backups. "There's no playbook for this thing," says Peterson. "But Scripps is an organization that excels at creating trust and working together through its teams."
In an operation this complex, it's easy to get lost in the details—but like any other service Scripps provides, it ultimately comes down to patient experience. "One thing I always remind myself is: As we're continually improving, we are really hard on ourselves because we see this every day," says Cole. "At the end of the day, when you go talk to our patients who've received the vaccine, they are celebrating."
From a patient's perspective, the process of getting vaccinated goes something like this: They pull into the Super Station; they're directed by traffic control and security to an area where their registration and reservation are confirmed; they enter the vaccination lanes, pull forward and receive their shot; then they drive to a waiting area where they are monitored to make sure there's no adverse reaction. Most patients who come through the Scripps Del Mar Vaccine Super Station are in and out within 30 minutes, including the 15-minute observation period.
When it's all running smoothly, there's little hint of the complex logistics going on behind the scenes. Scripps pharmacists have an especially crucial job. Many other vaccines come to health care providers already measured out and loaded into syringes, but not the COVID-19 vaccine, which is delivered in multi-dose vials that must be kept very cold. Each vial contains enough for five doses with a little left over — six if drawn with absolute precision. Not wanting to waste any of the precious vaccine that we've all anticipated for so long, pharmacists must fill syringes very quickly and with the utmost accuracy. 
The vaccines can be kept at room temperature for only a short time and must be used right away. They cannot be refrozen. As soon as six syringes are filled, they're rushed out to the person administering the shots, who waves an orange flag when they're ready for the next batch. 
This massive undertaking required staff and volunteers to switch from using Scripps' electronic patient records to My Turn, the state's scheduling system. Chief Information Officer Shane Thielman says staff had less than 48 hours before the Super Station opened to learn the inner workings of that system, to ensure it could effectively deploy the high-capacity model they'd designed. They also had to field technical difficulties without affecting the patient experience. "It requires a lot of agility to make sure that we're responsive and the community doesn't perceive any hiccups in the way the clinic operates," Thielman says.
What makes it all worthwhile
What makes it all worthwhile
"You go away from that just feeling good that you make a difference. It's that light at the end of the tunnel for all of us." 
Chris Van Gorder, Scripps Health Preseident and CEO
Van Gorder and his team say the patient is at the center of all they do. And the newly vaccinated patients show their gratitude in a variety of ways. Some write letters, some cry, some laugh and some even dance outside their cars. These patients have waited a long time for that shot and are looking forward to regaining normalcy in their lives.
"It's incredibly gratifying, because it feels like we're making an impact in a pandemic that's hung over us for more than a year now," says Thielman. "I've had a chance to be out a couple of days and actually work in the lanes and interact with patients, and it's rewarding because they're so grateful and appreciative." 
Van Gorder recalls seeing a couple with one person who was eligible for the vaccine, while their spouse was not. The spouse was disappointed but overjoyed that their loved one was finally getting their shot. 
"You go away from that just feeling good that you make a difference," he says. "You know you're giving a shot that's likely to save a lot of lives and prevent a lot of people from becoming ill. It's that light at the end of the tunnel for all of us." 
Seeing the successes of the Super Station has also done wonders for staff morale. "We thought the patients were going to be really excited — and we do see that — but what it's done for the staff is even more important," says Dr. Sharieff. ICU nurses who've witnessed the devastation of COVID-19 in their hospitals now have renewed hope and a refreshed passion for nursing.
Cole echoes that sentiment: "It's great to see that, because we know burnout was incredible. It's nice to see them celebrate on this side of the house." Meyer says she's honored to share in the emotions of care provider and patient alike; for instance, being able to vaccinate a person with complicated medical conditions or grieving with a volunteer who had just lost her husband but remained committed to giving back. 
"You're doing this for such a bigger, greater purpose," she says. "You realize that you come in with these people every day and want to be here. It's a journey, and I love being there with them. That's the part that I feel is very rewarding — to watch that and hear their stories."
This content appeared in San Diego Health, a publication in partnership between Scripps and San Diego Magazine that celebrates the healthy spirit of San Diego.