Vaccinated vs. Unvaccinated: What Are the Risks?
COVID-19 vaccine prevents severe illness, hospitalizations, death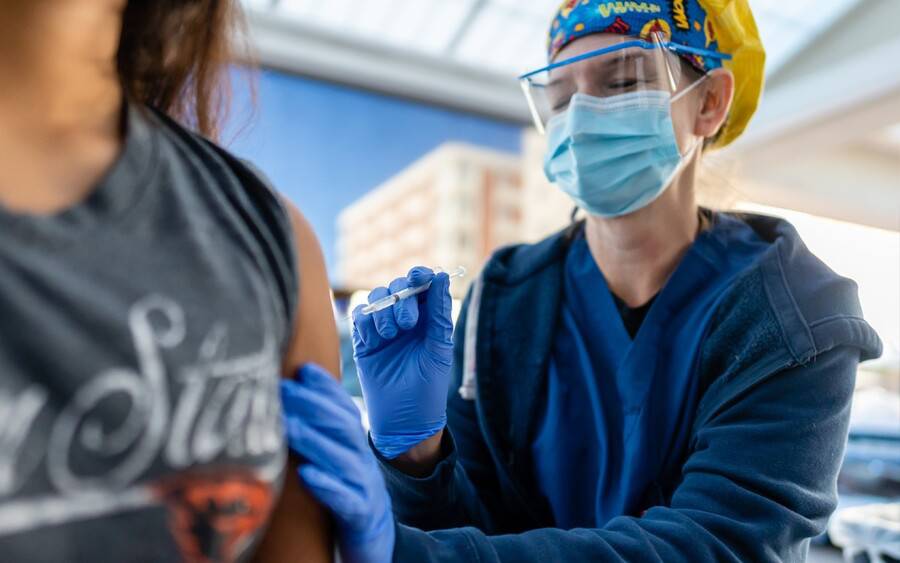 COVID-19 vaccine prevents severe illness, hospitalizations, death
With COVID-19 cases on the rise again, there is a big push to get more people vaccinated. COVID cases are up mainly due to the highly contagious Delta variant that is now surging. Unvaccinated people are most at risk. But what about people who have been vaccinated? Are they getting sick too?
There have been some "breakthrough" COVID cases among the vaccinated population. But the vast majority of hospitalizations and ICU cases are among unvaccinated people. "The bottom line is that the COVID-19 vaccines are effective in preventing both infections and deaths," says Ghazala Sharieff, MD, MBA, Scripps Health chief medical officer for acute care and clinical excellence.
The rise in COVID cases is concerning because the disease is largely preventable, Dr. Sharieff says. "Had more people gotten the vaccine we could be so much closer to herd immunity and there would not be a Delta variant surge."
According to the Centers for Disease Control and Prevention (CDC), approximately 99.5% of COVID-19 deaths in the United States are among unvaccinated people.
Likewise, the majority of COVID-related hospital admissions at Scripps are among unvaccinated people. Roughly 10-17% of admissions are among vaccinated people, according to Dr. Sharieff.
Why are breakthrough infections less harmful?
Studies show the COVID-19 vaccine not only protects against the virus that causes COVID-19 but also against new strains that develop, including the Delta variant.
Vaccinated vs. unvaccinated: difference in immune response
COVID vaccinations have been largely voluntary, and many people have not gotten around to getting the vaccine for one reason or another. But not getting vaccinated puts one at greater risk of severe illness if infected. Here's why:
When someone who is unvaccinated is exposed to the COVID virus, protection from the virus comes from the body's innate immune system or "innate defenders," which are responsible for rapid, non-specific response to pathogens and harmful substances.
COVID is an evasive virus, however, and can wreak havoc on the body before it can mount an adequate response.
The adaptive immune system is responsible for antigen-specific immune responses but its initial response to an antigen can be slow.
An unvaccinated person's immune system might eventually produce a stronger response to the virus, but that process could take weeks. By then the virus may have caused a lot of harm and resulted in serious illness, long-term damage or death.
Vaccinated immune response
In contrast, when someone who has been vaccinated is exposed to the COVID virus, the response is notably different. Here's why:
The COVID vaccines create a memory immune response so that if you're exposed to the virus, your body has a way to mount a powerful defense.
The vaccine helps to prepare the body's 'adaptive B cells' to quickly develop antibodies when they come across COVID. The body's T cells can then quickly target and kill off those infected cells.
If this immune response doesn't wipe out the virus immediately and there is a breakthrough, a vaccinated person can still expect a fuller response compared to someone who is not vaccinated.
A breakthrough does not erase the protection that's already been built. This is why people who have been vaccinated but still get infected tend to have symptoms that are milder, or no symptoms at all and recover much quicker.
Dr. Sharieff says the best way to get ahead of the Delta variant and any new variant is for more people to get vaccinated and continue to follow safe practices.
"We need everyone to help out. Please wear your masks whether you are vaccinated or not because there is currently a surge in COVID cases. Hospitals across the nation are feeling the impact and facing staffing challenges," she says.
In rare cases where vaccinated people get infected with the Delta variant, they can infect others. This is why vaccinated people are encouraged to wear a mask indoors in public if they are in an area of substantial or high transmission to reduce the risk of getting infected with the Delta variant and spreading it to others.
If you haven't received the COVID-19 vaccine yet, Scripps encourages you to get your vaccine wherever possible and as soon as possible. Appointments for the COVID vaccine can be made through the MyScripps patient portal or by calling 858-360-8107.