Going Back to School During COVID – Do It Safely
Stay on top of safety guidelines during your child's return to in-person learning
Stay on top of safety guidelines during your child's return to in-person learning
The 2020–2021 school year already threw many parents and students for a loop due to the COVID-19 pandemic. Transitioning back to in-person learning after more than a full year of virtual instruction may involve an even greater learning curve for adults and children alike. 
Will masks be required? What about vaccines? Will social distancing still be enforced? Many questions remain about what in-person learning will look like, whether it's masked or unmasked, hybrid or full-time. Allison Casciato, MD, a pediatrician, Scripps Coastal Medical Center Jefferson in Oceanside, offers reassurance for parents who may be concerned about sending their kids back to school. 
"I tell parents who are nervous that studies have shown in-person learning is not associated with a substantial increase in community transmission of COVID," she says. "We don't think that kids going back to school will significantly raise the rates of COVID in the community. However, if community rates of COVID are elevated, there is likely to be more transmission occurring at school." 
The CDC provides a site to monitor infection rates and vaccination rates at the county level.
The return to school also means a return to group activities, like sports, band practice and even communal lunch. Dr. Casciato explains that activities like these are best done outdoors or in well-ventilated areas. She also highlights studies that found that three feet is a safe distance for group learning, allaying fears about the need for desks and tables to be six feet apart. 
Play it safe: pandemic is not over
Dr. Casciato reminds parents that even though the CDC guidelines help minimize COVID risks at school, the pandemic is still not over. The current surge in COVID-19 infections is mainly affecting unvaccinated people and is largely due to the highly contagious delta variant.
If your child exhibits symptoms of COVID-19, the flu or any other communicable illness, the best bet for them, their peers and the overall community is to keep them home and follow local and state safety guidelines.
"We do have to remember that we're still in a pandemic. If your child is not feeling well, do not send them to school," she says. "Finally, if your child is age 12 and up, we recommend they get the vaccine. The mRNA vaccine has been studied in this age group; it is well tolerated, effective and may allow children to participate in more group activities and socialization." 
The CDC also recommends wearing masks indoors for all teachers, staff, students and visitors to K-12 visitors, regardless of vaccination status, due to the highly contagious COVID-19 Delta variant.
Make a plan, ease anxiety 
Though physical health is a high priority, emotional health has also taken center stage, as more parents and children struggle with the anxiety that comes from facing the unknown. Michael Campbell, EdD, a Scripps psychologist, suggests that the best way for parents to ease the anxiety of going back to school — for both themselves and their children — is to have a plan. 
"We are seeing a lot of anxiety in people who do not know how to transition back into normal life," he says. "Planning and communicating that plan in an age-appropriate way can help ease this transition." 
Campbell emphasizes that the first step to ease a child's anxiety is for their parents to get on the same page with each other and tackle their own fears first. 
"It's situational and age-based strategy," he says. "Parents first have to address their own anxiety, and then be mindful about what they're communicating to their kids. If your child is 4, you don't want them to think the world is a scary place, so communicating about going back to preschool will look different than it does with a 14-year-old high schooler, with whom it's more important to be real." 
Finally, he says, regular family check-ins are important. "It's a circular process. Parents, check in with your children about how they're feeling about being in school and any concerns they may have. In turn, this will encourage them to check in with you to communicate their needs."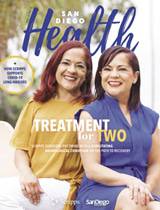 This content appeared in San Diego Health, a publication in partnership between Scripps and San Diego Magazine that celebrates the healthy spirit of San Diego.