Scripps Recovery Program Gives Hope to COVID-19 Long Haulers
Nurse shares experience with long-term COVID and recovery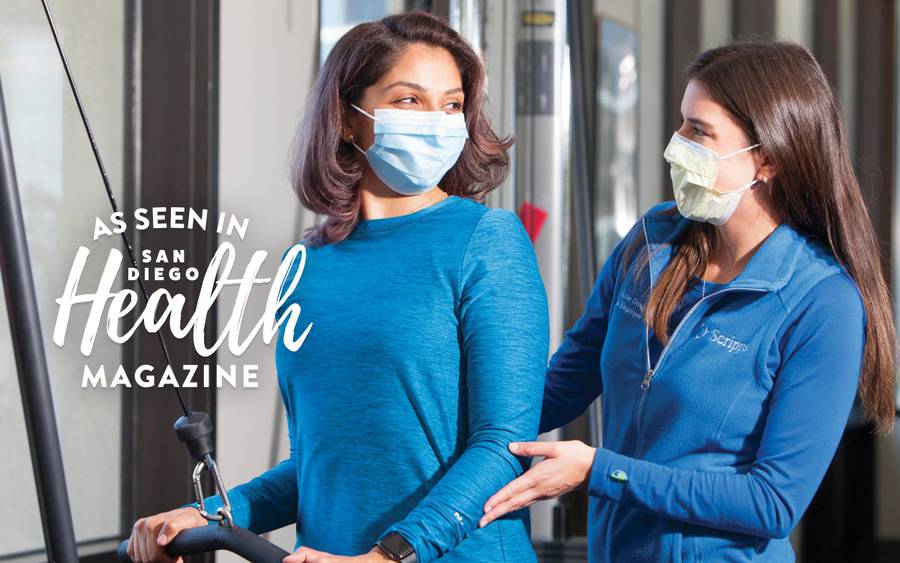 Nurse shares experience with long-term COVID and recovery
When California reopened at the beginning of summer, it seemed like we had turned a corner. With highly effective vaccines widely available in San Diego County, most of us felt more than ready to move on from the year of economic turmoil, health scares and more than four million lives lost worldwide.
Many who survived the disease are grateful to have made it with few or no complications. But some are still entrenched in a war against an invisible enemy, battling a constellation of symptoms. For much of the pandemic, these COVID-19 long haulers as they have become known, were left to bear their burden in silence. Scripps listened and launched the COVID Recovery Program. Local COVID long haulers now have somewhere to turn.
In the pre-pandemic world, Marianna Cisneros was the picture of health. The registered nurse and married mother of three trained for — and won — fitness competitions in her spare time and had just been accepted into nurse practitioner school. Always one to go above and beyond, when the virus arrived in San Diego, Cisneros put school on hold, ramped up her workload and began training to work in the intensive care unit (ICU) at Scripps Mercy Hospital San Diego.
"It's like a fire ignited in me," she says. "This was a chance for me to help out and do my part on the front lines."
However, she was sidelined roughly a week shy of finishing her ICU training. In July 2020, she tested positive for COVID-19. Fortunately, her husband and children were not infected. Her symptoms were initially mild. She didn't develop a cough, fever or any other symptoms indicative of the disease. At the time, medical guidance suggested that because of her age (then 29) and relatively good health, the virus would run its course and she'd be back in action two weeks later. Little did she know, she was starting a battle that would rage on for more than a year.
"We thought that if you're young and you're healthy, there really isn't anything to worry about," she says. "But for me, and for hundreds of thousands of other people around the world now, that turns out to not be the case. Youth and health are not necessarily going to protect you from the severity of the virus."
Who gets long-term COVID?
Recent studies show that about 2 to 10 percent of people who contract COVID-19 continue to experience symptoms months after they recover from the initial infection. Post-COVID illnesses can come on quickly or take months before they present.
For Cisneros, it began three weeks after her diagnosis. The right side of her body went numb, she lost the ability to walk, and she couldn't articulate words correctly. Fearing she was having a stroke, she went to the emergency department. She was later admitted to Scripps Mercy San Diego Hospital, a twist of fate that left her under the care of nurses she'd worked alongside just weeks earlier. 
"I was a COVID ICU nurse, then all of a sudden I was the COVID patient," she says. "It was really difficult to wrap my head around that concept."
To date, Cisneros has dealt with more than 50 symptoms believed to have been brought on by COVID-19. She walked with a limp for months due to neuropathy on her right side, sustained weakness in both hands, had shortness of breath that limited activity to 10 or 15 minutes and was homebound for six months. She also developed postural orthostatic tachycardia syndrome (POTS), viral encephalitis and lesions on her brain. 
"I always describe it like a tsunami," she says. "A tsunami is quick; it comes in and crashes into you, and once the water recedes, you're left to pick up the pieces. You might have people helping you, but the hard work is really on me to figure things out." 
In the early days of the pandemic, little was known about the plight of the long haulers until advocates like Cisneros began to speak about their own experiences. She found the strength to go into detail about her post-acute sequelae of SARS-CoV-2 (the technical term for long-term COVID) in an email to Scripps president and CEO Chris Van Gorder. Her story shed light on the countless long-haulers who face health challenges that aren't yet fully understood, and her fight became a catalyst for the Scripps COVID-19 Recovery Program.
Scripps Covid-19 Recovery Program: 18 specialties
In April, Scripps launched its innovative COVID-19 Recovery Program to better address the complex medical needs of long haulers like Cisneros. 
The program gives post- COVID patients a medical home base, where they have access to the expertise of physicians in 18 specialties: pulmonology, neurology, cardiology, gastroenterology, integrative medicine, nephrology, rheumatology, sleep medicine, pain management, behavioral health, physical therapy and more, plus personnel to help navigate specialty appointments and align treatments provided by multiple physicians. 
Patients are referred by their primary care doctor and begin their journey by seeing a COVID Recovery Program physician for their initial consult, via telemedicine or in person at Scripps Clinic Torrey Pines, or Scripps Mercy Hospital Advanced Care Clinic. 
"We have all the right specialists. We have all the right people. We just had to put them all together," says Anil Keswani, MD, Scripps chief medical officer, ambulatory and accountable care. "We built it around feedback that we were hearing. We are so pleased that our patients find this care helpful."
Comprehensive support services for long haulers
Comprehensive support services for long haulers
"We built a nimble program that can care for all aspects of each patient's symptoms."
Anil Keswani, MD, Scripps chief medical officer, ambulatory and accountable care
The multidisciplinary and patient-centric approach was modeled on that of Scripps MD Anderson Cancer Center, which brings together specialists in every area of cancer medicine, employs leading-edge technology and provides patients with comprehensive support services. 
While developing the COVID-19 Recovery Program, physicians and staff from across the organization worked together to build a medical clinic specific to the unique needs of this patient population. The COVID Recovery Program goes well beyond the typical office medical visit to include the coordination of multiple resources and specialists with a clear focus on the clinical, physical and emotional needs of each individual post-COVID patient. 
"We didn't build this as a one-size-fits-all," says Dr. Keswani. "We built a nimble program that can care for all aspects of each patient's symptoms." 
Another duty of the COVID-19 Recovery Program staff is to just listen and let patients know they're being heard. For many, this component is especially meaningful. Dr. Keswani says, "Our staff listens to our patients and validates their wide range of symptoms. I've heard everything, from patients who still experience a lack of smell and taste, to POTS to brain lesions. They run the gamut of symptoms. Giving people a place to go where they feel heard and understood helps in recovery."
Why do some people get long-term COVID?
Why do some people get long-term COVID?
COVID-19 is unlike anything doctors had ever seen before, and long-term COVID is essentially a brand-new disorder that was discovered through anecdotal reports and patient advocates. And it seems that no two patients' experiences are exactly alike. 
"It's people like Marianna who have not only been of service on the front lines but are also teaching us as medical providers about this condition," says Noemi Doohan, MD, the Scripps hospitalist and former Mendocino County public health officer who is co-medical director of the COVID-19 Recovery Program. 
"With an emerging infectious disease that has a chronic component, there's so much we don't know. This is a great health care institution, so we have many, many resources we can offer our patients. And at the same time, as part of the COVID-19 Recovery Program, we're studying this condition so we can learn how to help our patients even more in the future."  
The health care community at-large learns new information and guidance on COVID-19 and long COVID every day, and Scripps stays on the leading edge so patients with ongoing health problems can rest assured they're receiving the most current treatment and advice. Caregivers listen and learn from patients who are facing a wide range of COVID-related conditions, then work with a team of experts to help get them back to wellness.
It remains unknown why some patients recover quickly from the virus and some languish for months, or why others who initially had mild or no symptoms are hit with complications long after their first exposure.
What are COVID long hauler symptoms?
What are COVID long hauler symptoms?
Experts also can't predict what symptoms a person will end up with. COVID-19 can affect seemingly any part of the body and cause a disproportionate response from the body's immune system. Doctors could see why lung problems might linger due to the shortness of breath attributed to acute COVID, but not the neurologic dysfunction that causes various "silent" problems, such as fatigue or malaise, that may not be diagnosable or even observable via traditional methods. 
Bradley Patay, MD, an internal medicine physician at Scripps Clinic Torrey Pines, and head of the Torrey Pines COVID-19 Recovery clinic, says, "I've heard of patients with a myriad of symptoms from the head to the toes. Individuals have headaches, cognitive problems, palpitations and lightheadedness, which suggests dysautonomia, an imbalance of the nervous system that's responsible for regulating involuntary body functions, such as heartbeat, blood flow, breathing and digestion. 
"Multiple other complications can be present, ranging from blood clots to pulmonary disease. The outcome from the virus can be quite debilitating, but there is hope with continued ongoing research and diagnostic and therapeutic trials. Ultimately, you want to listen to patients and not discount their symptoms, because there's a general idea of what the acute COVID condition is and the symptoms people get, but this post-COVID condition is yet to be fully figured out."
Preventing COVID through vaccination
Doctors do say one thing is crystal clear: The best way to prevent long-term COVID is to get vaccinated and avoid infection in the first place.
Marianna's road to recovery
Marianna's road to recovery
"It's amazing to have someone to help you navigate such a difficult recovery time and know you're not alone."
Marianna Cisneros
For Marianna, the road to recovery is long and grueling, but once the COVID-19 Recovery Program was up and running, she knew she had people in her corner. The staff there help her manage referrals, medications, physical therapy, insurance issues and numerous other aspects of her care. "The post-COVID clinic has really taken on those challenges," she says. "They've essentially been the facilitator and relieved me of the burden of having to make all these phone calls and find referrals. All that's taken off my hands. It's amazing to have someone to help you navigate such a difficult recovery time and know you're not alone." 
Though she still faces respiratory issues and has trouble walking, steady rehabilitation and treatment and regular check-ins with Dr. Doohan have helped her get to a place where she's able to work as a nursing supervisor at Scripps Mercy Hospital Chula Vista (though not in the ICU), care for her children and resume nurse practitioner school so she can someday work with patients with brain injuries. She just began cardiopulmonary rehabilitation through the Scripps post-COVID clinic and is optimistic that she can eventually transition off heart medication.
She's still advocating for other long-haulers and has even helped launch a support group for Scripps employees. 
"I'm not sure if I will ever get back to my baseline, but I am hopeful and have faith," she says. "I almost feel like my experience with recovering from COVID needed to happen so that other people can get help. We need to make sure others like me are heard and given a second chance at life."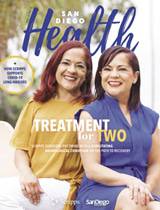 This content appeared in San Diego Health, a publication in partnership between Scripps and San Diego Magazine that celebrates the healthy spirit of San Diego.