Home Health Care: No Place Like Home for Getting Care
Scripps' home-based care lets patients recover where they're most comfortable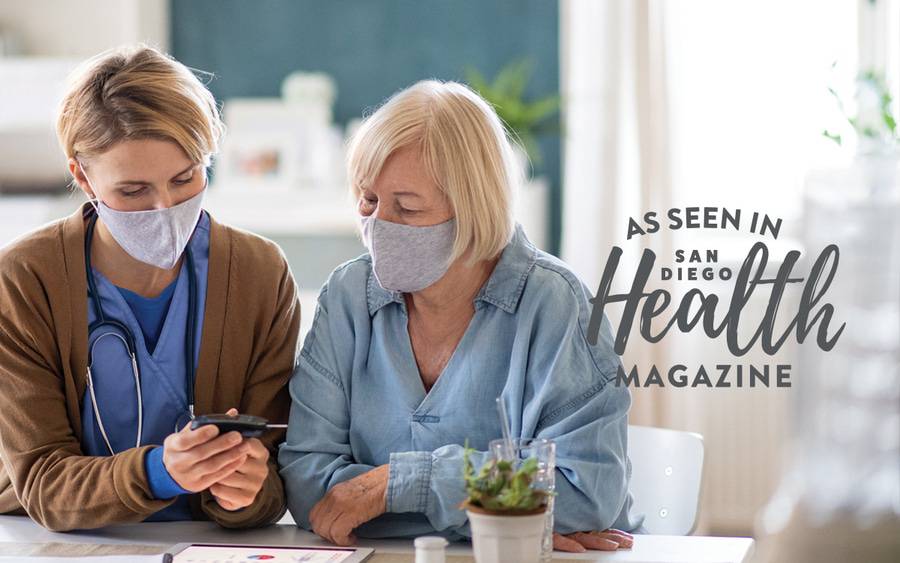 Scripps' home-based care lets patients recover where they're most comfortable
Most patients in the hospital can't wait to go home, and those who've been discharged want to stay home. Scripps' home health care options make this possible. Since 2004, Scripps has offered a full range of home-based care services that can be individualized to meet each patient's unique medical needs.
Scripps deploys a multidisciplinary team of doctors, care managers, etc., who can pay visits as needed to care for patients with chronic conditions – such as congestive heart failure and chronic obstructive pulmonary disease – who need continuous care but can't easily travel back and forth from doctors' appointments. Scripps also sets them up with the equipment and technology they need to continue recovering at home.
"Because we have been caring for patients in the hospital for a long time, we recognize that model was great for probably 90 percent of the patients," says Alexie Nguyen, MD, medical director, Scripps Home Health Care. "However, there's a cohort of patients for whom it's very difficult to make it into their primary care doctor's office."
Home health helps reduce hospital readmission
Many patients with chronic health issues who are hospitalized end up being readmitted a few days after they are discharged, especially when they don't have anyone who can help them manage their medications, avoid potential health hazards in the home and otherwise follow their doctor's orders. 
Home-based care has greatly reduced the rate of these readmissions. "Home really is the best place where the patient can recuperate," Dr. Nguyen says.
Home health care expands during pandemic
Scripps ramped up this effort and launched an intensive version of home-based care during the height of the pandemic. It allows certain stable COVID-19 patients, and others with chronic conditions, who have a treatment plan and a support system in place to spend what would have been the last day or two of an inpatient stay at home, thus freeing up much-needed hospital beds. 
Patients receive a "tuck-in" call the night they are discharged, then are visited morning and evening by Scripps team members who check vitals, manage medications, collect specimens for lab work and take any other necessary steps. After they clear the "intensive" phase, patients are routed into regular home-based care or back to their primary care provider.
"Our home-based care program is truly built around the patient," says Anil N. Keswani, MD, chief medical officer, ambulatory and accountable care at Scripps Health. "Our physicians go to the house, our care teams manage them remotely, and we make sure that patients get everything they need without having to come back into a hospital, a clinic or a skilled nursing facility."
As of this fall, 300 patients have received intensive home-based care and around 3,000 have been treated in regular home-based care. Dr. Keswani says it's all possible thanks to collaboration, communication and teamwork: "It's been a tough pandemic, but we've thrived because we brought all of our resources together. The team-based approach to health care, which we've been practicing for years, came in handy when we put this program in place."
This content appeared in San Diego Health, a publication in partnership between Scripps and San Diego Magazine that celebrates the healthy spirit of San Diego.